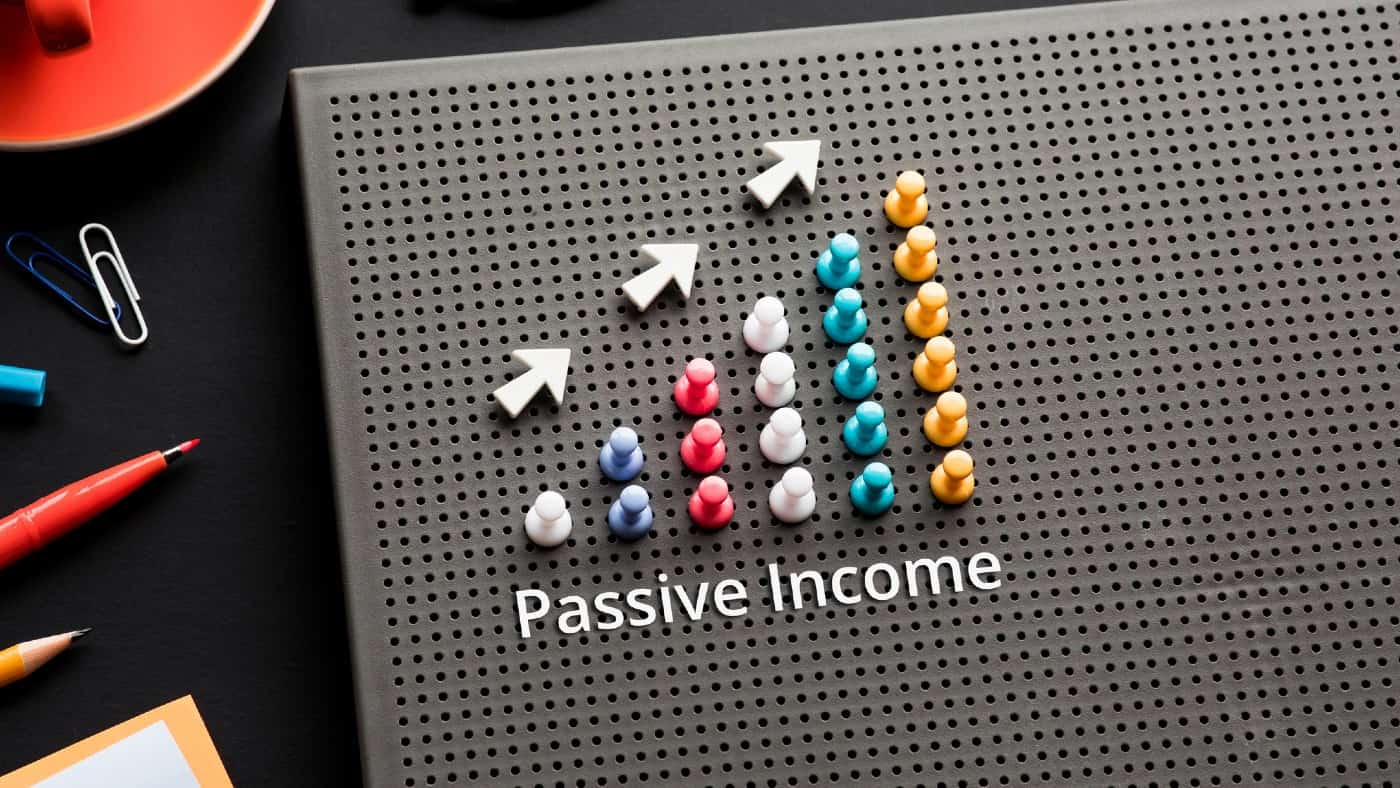 Passive income text with pin graph chart on business table
Last month, my wife received a tax-free lump sum from her long-term savings. As we both work and don't need this extra capital right now, we are investing it to earn more passive income.
Like many investors, I'm a big fan of share dividends as a source of passive income. As American tycoon JD Rockefeller once remarked, "Do you know the only thing that gives me pleasure? It's to see my dividends coming in".
A few weeks ago, my wife and I added 10 new UK shares to our family portfolio. Here are two we bought for their market-beating cash yields.
Two FTSE 100 shares for passive income
1. Asset manager M&G
The highest-yielding share we bought for bumper dividends was well-known investment manager M&G (LSE: MNG).
Although this business has been around since 1931, it only floated in London as a separate company on 21 October 2019. At the end of last year, M&G managed over £342bn of financial assets for 5m individual investors and more than 800 institutional clients.
Unfortunately, 2022 was a bad year for the group, with both share and bond prices falling steeply worldwide. However, with financial markets bouncing back in 2023, I expect a solid set of full-year results from this business.
At the current share price of 199.75p, M&G is valued at £4.7bn, making it a FTSE 100 minnow. While its shares are up 1.8% in the past year, they have lost 9.2% from their 2019 float price of 220p. However, these figures exclude dividends, which play a big part in M&G's shareholder returns.
Indeed, at the current share price, this FTSE 100 stock offers a cash yield of a whopping 9.8% a year. To me, this looked irresistible, which is why we bought this share in August. And though company dividends are not guaranteed, I expect to bank plenty of passive income from M&G in the years ahead.
2. Financial firm Phoenix Group Holdings
Sticking with financial businesses, my wife and I also bought a maiden stake in Phoenix Group Holdings (LSE: PHNX). This company's main business is buying, managing, and running off unwanted pension and insurance funds.
Thank to rapidly rising interest rates, Phoenix's core business is booming this year, as it reported in its latest half-year results released today (Monday, 18 September). But after initially leaping to a high of 550p, the stock now stands at 527.5p, down almost 2% since Friday.
At current price levels, this Footsie firm is valued at £5.3bn, just a little larger than M&G. However, its share price has lost 12.7% in the past year and 20.7% over five years. This has pushed up its dividend yield to a mouth-watering 9.6% a year — just behind M&G's payout.
At its 52-week high, Phoenix's share price hit 647p on 2 February 2023 — little more than a month before a US banking crisis sent financial stocks plunging globally. With the stock languishing almost a fifth (-18.5%) below this high-water mark, I have high hopes for this share.
Finally, investing for passive income comes with some risks. When companies hit hard times, they often respond by cutting or cancelling their dividend payouts. When this happens, share prices often slump. But barring another market meltdown in 2023/24, I am optimistic for both these dividend shares!
5 Shares for the Future of Energy
Investors who don't own energy shares need to see this now.
Because Mark Rogers — The Motley Fool UK's Director of Investing — sees 2 key reasons why energy is set to soar.
While sanctions slam Russian supplies, nations are also racing to achieve net zero emissions, he says. Mark believes 5 companies in particular are poised for spectacular profits.
Open this new report — 5 Shares for the Future of Energy — and discover:
Britain's Energy Fort Knox, now controlling 30% of UK energy storage
How to potentially get paid by the weather
Electric Vehicles' secret backdoor opportunity
One dead simple stock for the new nuclear boom
Click the button below to find out how you can get your hands on the full report now, and as a thank you for your interest, we'll send you one of the five picks — absolutely free!
Grab your FREE Energy recommendation now
More reading
Cliff D'Arcy has an economic interest in both shares mentioned above. The Motley Fool UK has recommended M&G. Views expressed on the companies mentioned in this article are those of the writer and therefore may differ from the official recommendations we make in our subscription services, such as Share Advisor, Hidden Winners and Pro. Here at The Motley Fool, we believe that considering a diverse range of insights makes us better investors.
News Related
OTHER NEWS