Channel your inner Italian with these easy pasta recipes for any night of the week.
Greg DuPree
Pasta is one of our go-to meals for weekdays and weekends alike, because it's cheap, easy, and endlessly versatile (oh, and absolutely delicious). From cheesy, decadent bakes, to lighter, vegetable-forward dishes, pasta works well in every situation. Scroll through this post for 20 satisfying, easy pasta recipes that all come together in less than 45 minutes.
Caprese Mac and Cheese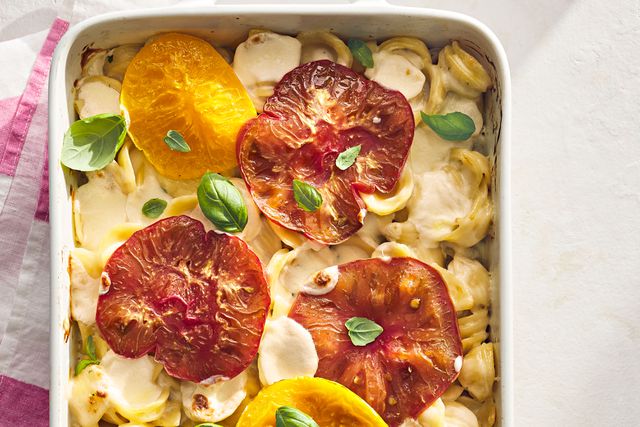 Fred Hardy
Mac and cheese can be very rich, but this rendition is on the lighter side thanks to a hit of freshness from tomatoes and basil. To complete the Caprese trio, there's also plenty of creamy mozzarella.
get the recipe
No-Bake Summer Veggie Lasagna
Fred Hardy
There's no bechamel in this bright veggie lasagna: just seasoned ricotta and fresh summer vegetables with oregano and garlic.
get the recipe
Instant Pot Risotto With Peas and Crispy Salami
Greg DuPree
The Instant Pot might be the easiest method for making risotto at home, and it gets the job done in just 35 minutes. This recipe has a Spanish flair thanks to the salami and smoked paprika.
get the recipe
Skillet Gnocchi With Sausage and Broccoli Rabe
Greg DuPree
Sausage and broccoli rabe are a delicious match—savory and satisfying—and pillowy, quick-cooking gnocchi are the ideal accompaniment for them.
get the recipe
Tortellini and Veggies en Brodo
Greg DuPree
This recipe is a springy take on a classic Italian recipe; lemon zest and green vegetables elevate and brighten the wintry, tortellini-filled broth.
get the recipe
Mushroom and Burrata Orzotto
Greg DuPree
Yes, you can make risotto with orzo, and it takes much less time than a classic risotto. Roasted mushrooms, torn burrata, and chopped parsley bring the wow factor.
get the recipe
Spaghetti Pasta Salad With Avocado-Basil Dressing
Victor Protasio
Pasta salads typically aren't made with spaghetti, but there's no real reason why they shouldn't be. This version is coated with a luscious avocado-basil dressing that comes together quickly in a blender.
get the recipe
Creamy Butternut Squash Pasta With Leeks
Victor Protasio
Here, a creamy pasta sauce is made with mashed butternut squash and half-and-half. Along with the squash-based sauce, frizzled leeks and sage give this dish a warming, autumnal flavor.
get the recipe
Easy Artichoke Pasta Toss
Grace Elkus
Jarred marinated artichokes are the secret to this easy pasta dish, which pair well with nutty Parmesan and crushed red pepper.
get the recipe
Roasted Broccoli Pesto Pasta
Caitlin Bensel
Instead of tossing broccoli stems, slice and roast them, then blend them into a pesto. We like to use whole wheat pasta with this earthy pesto, but any kind of pasta works.
get the recipe
Whole Wheat Pasta With Chard and Pine Nuts
Victor Protasio
This recipe limits food waste by using both the leaves and stems of Swiss chard. Garlic and anchovies flavor the dish, while toasted pine nuts are an excellent final touch.
get the recipe
Cacio e Pepe
Getty Images
Transport yourself to Italy with the classic Roman cacio e pepe (cheese and pepper) pasta. Although cacio e pepe sounds and tastes fancy, it actually only requires five ingredients and 25 minutes of your time.
get the recipe
Creamy Chicken and Mushroom Pasta
Caitlin Bensel
Sherry vinegar and fresh tarragon balance out the richness of this creamy chicken and mushroom pasta.
get the recipe
Linguine With Cherry Tomato Sauce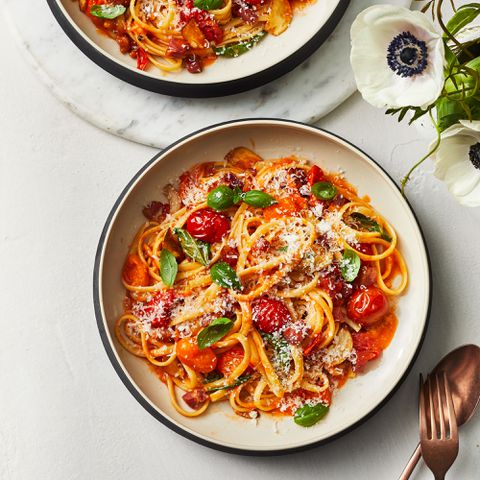 Greg DuPree
This simple cherry tomato sauce begins with rendered pancetta, which gives it a deep, meaty flavor.
get the recipe
Lemony Spaghetti With Sardines and Bread Crumbs
Greg DuPree
Tinned fish fans will love this chic pasta recipe, which uses a tin of olive oil-packed sardines along with plenty of herbs and breadcrumbs. Sardines love lemon, so this recipe includes both lemon juice and zest.
get the recipe
Swiss Chard Mac and Cheese
Caitlin Bensel
This creamy mac and cheese contains a generous amount of Swiss chard sautéed in butter for color and nutritional value.
get the recipe
Speedy Linguine and Clam Sauce
Greg DuPree
Linguine with clams might sound complicated, but it couldn't be easier thanks to canned clams and clam juice, which offer briny flavor with zero fuss.
get the recipe
Spring Pasta Salad
Caitlin Bensel
On a spring day, this colorful pasta salad is just the thing to make. The vinaigrette includes shallot and Dijon mustard, and the pasta is studded with crisp-tender snap peas and radishes.
get the recipe
Pasta With Bacon and Caramelized Cauliflower
Greg DuPree
There aren't many ingredients in this recipe, but each one packs a punch. Cook the cauliflower in the leftover fat from cooking the bacon to deepen its flavor, and toss everything at the end with butter, Pecorino Romano, and reserved pasta water to make a silky sauce.
get the recipe
Spicy Shrimp Scampi With Angel Hair Pasta
Anna Williams
Delicate, quick-cooking angel hair pasta goes well with tender, garlicky shrimp for an elegant dinner that's ready in no time.
get the recipe
Read the original article on Real Simple.
News Related
OTHER NEWS