Inflation or recession, the one thing that will always remain in demand is oil. It's hard to imagine a world without oil, and while it is a volatile sector, oil companies can sometimes report record profits while also taking a beating in certain cases. A lot of these businesses reported impressive numbers in 2022, but that has been cooling down now, and oil stocks are trading at a discount. That's why now is the right time to consider the top oil stocks to buy.
Companies saw oil price lows turn to all-time highs of $100 per barrel during the pandemic. After Russia and Saudi Arabia cut production and considering the rising demand in China, oil could reach $100 again very soon. It's already at a 10-month high. With inflation cooling and the fears of recession dying, the resource is recovering, and oil companies are set to make the most of it in the second half of this year. I believe this is a good time to take your pick and invest in oil stocks set to gain momentum in the coming months. Let's take a look at the three oil stocks to buy and make the most of the potential upside.
Oil Stocks to Buy: Chevron (CVX)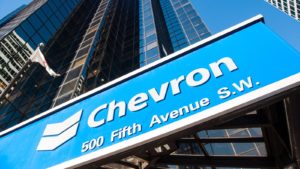 Chevron logo on blue sign in front of skyscraper building
Source: Jeff Whyte / Shutterstock.com
One of the top oil stocks for several reasons, Chevron (NYSE:CVX) tops the list of stocks to own. Besides being a dividend-paying stock, it is also an industry leader, and holds a strong position globally. If you are a conservative investor, this is a stock you should have in your portfolio. It is a financially strong oil company and is in the business of oil and natural gas drilling, refining, energy pipelines and transportation.
The diversified business gives it much-needed exposure in the industry and enables it to balance the company's performance with time. Even if energy prices drop, the diversified business allows Chevron to continue reporting strong financials. The company has increased dividends for 37 consecutive years and, despite seeing volatility in the sector, has continued to reward shareholders.
With the oil prices expected to hit $80, Chevron will deliver strong cash flow in the coming quarters. In the second quarter, it reported a revenue of $47 billion and an operating cash flow of $6.3 billion.
The company aims to increase energy production by 3% or more annually through 2027, ensuring it holds the top position in the sector. It will also support the dividend growth of the company. Trading at $166 right now, the stock is up 6% in the past year and has been trading sideways for the most part. It is difficult to time the ups and downs of the stock since it is a highly volatile sector. However, holding the stock long term will continue to generate passive income and also benefit you with capital gain. The future will continue to be bright for Chevron.
Exxon Mobil (XOM)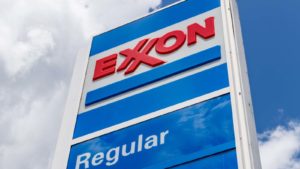 Exxon Retail Gas Location
Source: Jonathan Weiss / Shutterstock.com
Exxon Mobil (NYSE:XOM) is another top player in the industry and looks highly undervalued to me. The company has raised dividends for 40 consecutive years and has a dividend yield of 3.09%. One of the largest companies in the world, Exxon Mobil has an upstream and downstream business, which helps it generate revenue even in market volatility. It aims to continue expanding the fossil fuel business over the coming years to support the high demand. It is also investing in renewable energy and taking the necessary steps to reduce the environmental impact.
Due to the volatility in oil prices, the company's profits tumbled in the second quarter. It saw a drop in net income by over 50% year-over-year and that had an impact on the share prices. But all oil companies have been impacted similarly, and Exxon Mobil is not alone. However, on the positive side, it saw the production in Guyana and the Permian Basin increase 20% year-over-year, and it also expects a higher upstream volume in the current quarter.
Exxon Mobil managed to generate $9.4 billion in cash from operations and $5 billion in free cash flow. That allowed it to return the profits to the shareholders and showed that even if the net profit drops, the company is committed to rewarding shareholders. It also means Exxon will continue to do so in the coming years. XOM stock is trading at $116 today and is very close to the 52-week high of $119. The stock is up 25% in the past year and has been moving in the upward direction since the last week of August. I believe this momentum will continue as the fears of recession die and the economy improves.
Occidental Petroleum (OXY)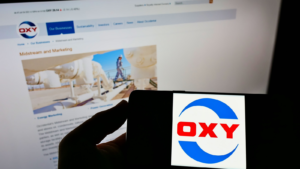 Person holding cellphone with logo of American company Occidental Petroleum Corp. (OXY) on screen in front of website. Focus on phone display. Unmodified photo.
Source: T. Schneider / Shutterstock.com
Occidental Petroleum (NYSE:OXY) is in the news for a huge reason, making it one of the best oil stocks to buy. To reduce carbon emissions, global giant Amazon (NASDAQ:AMZN) has agreed to buy carbon dioxide removal credits from Occidental Petroleum to support the first direct air capture unit in Texas. This is a collaboration to benefit both companies. Amazon will be able to reach the climate change goals, and Occidental Petroleum will be able to boost its carbon capture, utilization and sequestration business.
Amazon will purchase 250,000 metric tons of the removal credits over a period of 10 years. Currently exchanging hands at $66, the stock looks undervalued to me. A favorite of Warren Buffett, Occidental Petroleum has doubled its capital spending during the year to $1.5 billion, raising the production target by 20,000 barrels of oil to 1.22 million barrels a day. It is one of the best oil stocks to own.
For reference, the company reported $1 billion in free cash flow in the recent quarter and it also acquired Carbon Engineering for $1.1 billion. The company is focused on developing large-scale direct air capture (DAC) technology, which allows Occidental Petroleum to capture carbon dioxide and produce clean fuel. This is one hot oil stock to own before it becomes too expensive. It also has a dividend yield of 1.09%. While it might be lower than the competitors, the stock has a solid upside potential.
On the date of publication, Vandita Jadeja did not hold (either directly or indirectly) any positions in the securities mentioned in this article. The opinions expressed in this article are those of the writer, subject to the InvestorPlace.com Publishing Guidelines.
Vandita Jadeja is a CPA and a freelance financial copywriter who loves to read and write about stocks. She believes in buying and holding for long term gains. Her knowledge of words and numbers helps her write clear stock analysis.
More From InvestorPlace
News Related
OTHER NEWS