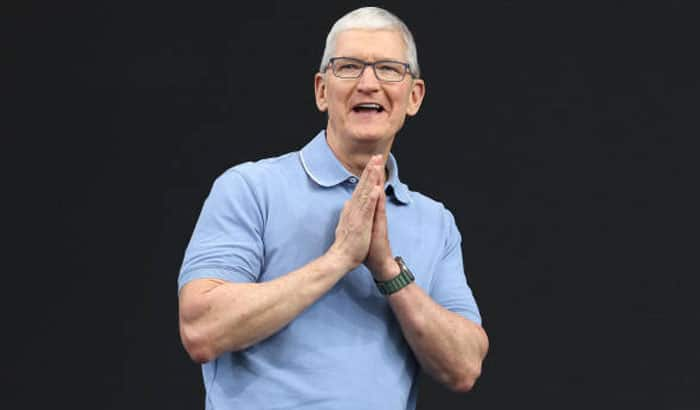 Apple CEO Tim Cook REVEALS his favourite iPhone 15 Pro series colour
Tim Cook recently announced his choice of an iPhone 15 Pro Max, although he admitted that deciding on the colour was "a hard decision." Never underestimate the importance of iPhone colors. Users now know their options after months of speculation, and some are finding it difficult to choose after analysing the colour hints provided by the Apple event invitation.
"You know, I'm using the Natural [Titanium]," Cook said in an extremely brief interview. He is undoubtedly using an iPhone 15 Pro, and the size of the device in his hands indicates that it is the bigger iPhone 15 Pro Max.
He said, "I adore it, but I tell you, it was a hard decision. Of course it was a hard decision because the blue really caught my eye, the white really caught my eye, and the black really caught my eye." Cook said that he finally decided to go with the Natural Titanium — a colour we believe will be the most popular.
The iPhone 15 Pro variants are the first iPhones to include a titanium frame, which is sturdy yet provides for a purportedly substantially lighter phone. The interior of the phone is made of revised aluminium.
Available in four finishes including Black Titanium, White Titanium, Blue titanium, and Natural Titanium, the 6.1-inch and 6.7-inch iPhone 15 Pro and iPhone 15 Pro Max feature an all-new customisable Action button, a more advanced 48MP Main camera system, a new 5x Telephoto camera exclusive to the iPhone 15 Pro Max, a strong and lightweight titanium design, USB-C, and more.
Also Read | Did you know iPhone 15 Pro Max sold out in an hour during pre-order rush?
It appears that the most popular colour choice is Natural Titanium. Currently, there is an excellent chance that the shipment period for the iPhone 15 Pro Max (256GB version) will be more than six weeks. The other colour options continue to indicate a delivery time that is around three weeks faster than average.
On September 22, the iPhone 15 series will go on sale for the first time. Pre-orders began on September 15, and delivery periods may differ according on the hue and storage option.
Also Read | When will Apple start making the latest iPhone 15 Plus in India?
News Related
OTHER NEWS