Whether you're flocking to the Beyhive or you're looking to avoid it, there are some things you should know.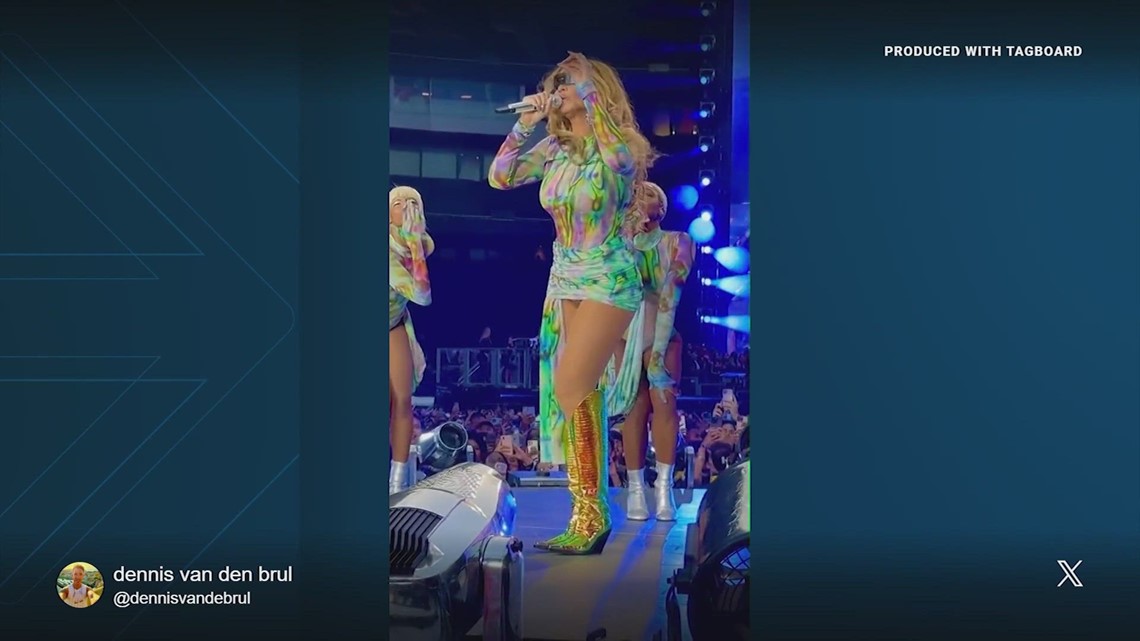 HOUSTON — Beyoncé's Renaissance world tour has been buzzing across social media, and it'll soon be time for Houstonians to flock to (or flee from) the hive.
The Houston native is set to perform at NRG Stadium on Sept. 23 and Sept. 24.
Whether you're planning (or hoping) to be there – or you're looking to be as far away from the show as possible – there are some things you should know ahead of time.
What time will the parking lot open?
Parking lots will open at 4:30 p.m. The parking fee is $40 per space and there is no in-and-out access, which means once you park, your car will have to stay in the lot until you're ready to leave for the night. The Orange, Red, Maroon, Blue, Yellow, Green and Purple lots will be open with ADA parking available in the Orange, Red, Maroon, Blue, Yellow, Green and Purple lots.
Where is rideshare pickup/dropoff?
All rideshare pickups and drop-offs will be in the yellow lot off Main Street. From there, guests can walk on the pedestrian bridge over Kirby to get to NRG Stadium.
Can you take METROrail to the concert?
Yes, METRO rail is an option for getting to the Renaissance Tour shows.  You can get info on on METRO rail here.
Will METRO have special shuttles or Park & Rides?
No. According to METRO, it will open its South Fannin lot as a special event lot. For $20 per vehicle, drivers can park there and ride METRORail to the NRG Park stop for free.
What time will doors open?
The Bud Light Plaza will open at 5 p.m. and NRG Stadium doors will open at 6:30 p.m. ahead of the concert's scheduled start at 8 p.m.
What time will Beyoncé go on stage?
The show is scheduled to start at 8 p.m., but from what's been shared on social media, don't expect the queen to arrive on time.
Based on this Reddit thread from fans who went to her earlier stops, she'll most likely hit the stage sometime between 8:30 p.m. and 9 p.m.
How long will the show last?
Expect the multi-part to run for about three hours. The setlist features nearly three dozen songs spanning Beyoncé's career.
What songs will Beyoncé perform?
There are two parts to this answer: the confirmed setlist and the extra songs that she may or may not perform.
According to PopBuzz, Beyoncé has performed about 30 songs consistently throughout the tour within several different acts. That includes popular "Renaissance" songs like "Alien Superstar," "Cuff It" and "Heated."
There are also some Queen Bey classics such as "Formation," "Run the World," "Dangerously In Love 2," "Partition" and "Crazy In Love."
Songs that she's performed every now and then are "All Up In Your Mind," "Thique" and her Dubai concert version of "Drunk In Love."
Is anyone else going to perform in Houston?
Good question, but no solid answer as of Sept. 18.
Beyoncé and her House of Chrome have been the only ones confirmed for almost every concert, but there have been a few surprise performances here and there.
One of the most notable ones was when Diana Ross sang during her birthday concert in California. Other surprise openers included rapper Offset, DJ Khaled, Kendrick Lamar and raising rapper Doechii.
Will Blue Ivy perform in Houston?
Beyoncé's oldest daughter Blue Ivy has been coming to the stage for almost every concert. The 11-year-old comes in for "My Power," perfectly during the line "This that bloodline / On the front line, ready for war."
She also joins the dancers during her mother's song, "Black Parade."
How should I prepare for the concert?
1. If you're bringing a bag, it has to be small and/or clear
NRG Park is limiting its bag policy for safety reasons. According to its rules for Beyoncé's shows, you can bring:
A clear tote bag no larger than 12″x12″x6″
OR A gallon-sized resealable plastic bag
AND a small clutch no larger than 4.5″ x 6.5″
2. Be ready for the Mute Challenge
During her song "Energy," Beyoncé will go completely silent after the line, "Look around, everybody on mute." The challenge is for concertgoers to be as quiet as possible until the song continues.
A few cities have done well, but Atlanta's been crowned the challenge winner so far.
If you make any noise during the challenge, don't be surprised if people near you look at you funny.
3. If you're bringing kids, plan ahead
A lot of Houston parents are treating their kids to Beyoncé's concert. Since NRG Stadium is going to be packed and dark once the show starts, make sure they have an ID bracelet in case you get separated. Another option is to write your phone number on their arm.
News Related
OTHER NEWS