Measures are latest in the sanctions imposed on Washington for Pelosi's 'vicious' and 'provocative' visit to Taipei
Close
Missiles fired from Chinese coast amid Taiwan tensions
China has said that it is suspending all cooperation with the US on climate change, as well as halting high-level military dialogue as part of a raft of responses to Nancy Pelosi's visit to Taiwan. NSC spokesman Admiral John Kirby called the move "irresponsible."
Earlier, the country announced imposing sanctions on Ms Pelosi and her immediate family in response to her "vicious" and "provocative" visit to Taiwan, the Chinese foreign ministry said.
It came as Beijing continued with its military offensive as it fired multiple ballistic missiles in the direction of Taiwan this morning, four of which flew directly over the capital city Taipei in an unprecedented escalation.
US secretary of state Antony Blinken slammed China's military exercises, saying there was no justification for Beijing's "extreme disproportionate and escalatory" response.
The statement came as Ms Pelosi reasserted America's support for Taiwan, saying that China will not be able to isolate the island by preventing US officials from travelling there.
Ms Pelosi, who is in Japan today for the final leg of her Asia tour, nonetheless added that her trip to the region was "not about changing the status quo in Taiwan".
1659733257
Full story: How airlines are cancelling and re-routing flights amid Chinese drills
Several airlines have cancelled or re-routed flights to Taipei this week, as China carries out its unprecedented military drills surrounding Taiwan.
Read the details in this report from my colleague Lucy Thackray: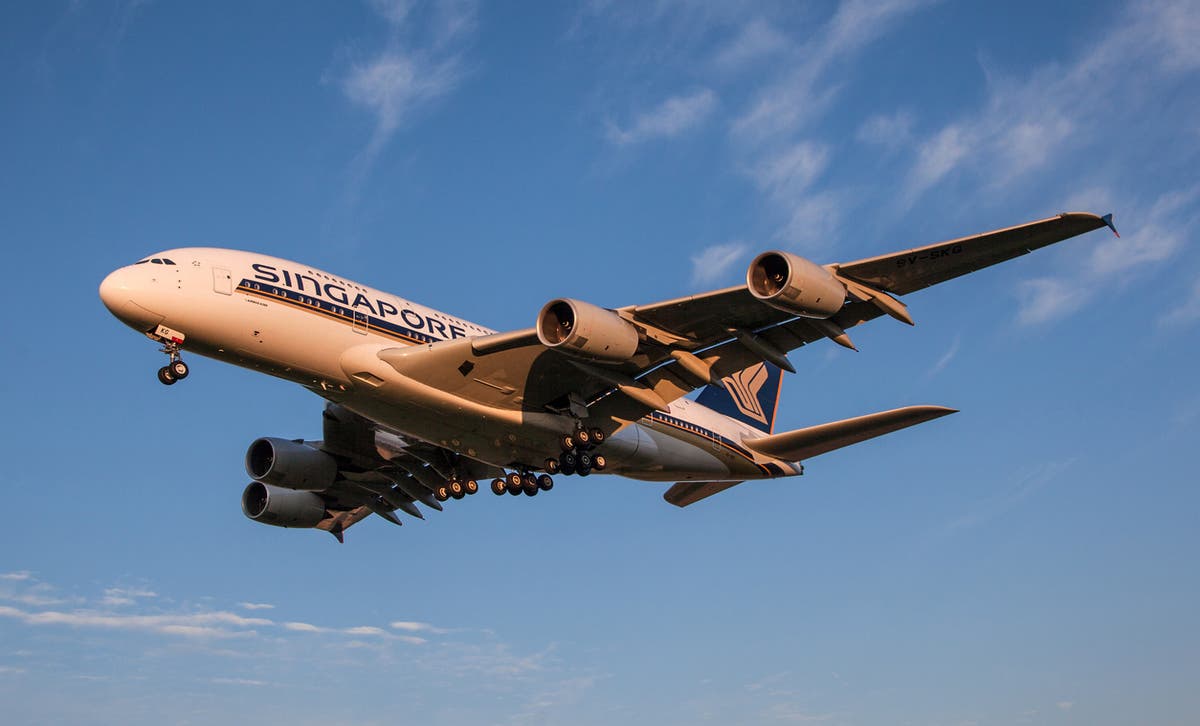 Flights cancelled or rerouted amid China'a missile drills near Taiwan
Several airlines have cancelled or re-routed flight this week, as China carried out military drills off the coast near Taiwan.
Graig Graziosi5 August 2022 22:00
1659729396
Apple acquiesces to Chinese labelling demands, ensuring no products headed for China are labelled 'Made in Taiwan'
Apple told suppliers that any merchandise heading from Taiwan to China be labeled in accordance with Chinese customs preferences.
This means that all mechandise leaving the island for China will have to be labelled "Made in Taiwan, China" or "Made in Chinese Taipei."
Nikkei Asia reports that House Speaker Nancy Pelosi's visit to Taiwan "stoked fears of rising trade barriers," which apaprently spooked Apple. The company fears "possible disruptions" if China decides to block products in customs for not adhering to its labelling demands.
Graig Graziosi5 August 2022 20:56
1659725905
NSC spokesman Admiral John Kirby calls China 'irresponsible' for backing out of climate agreements
National Security Council spokesman Admiral John Kirby told reporters that China's decision to back out of climate agreements with the US over House Speak Nancy Pelosi's visit to Taiwan was "fundamentally irresponsible."
Mr Kirby said the Chinese decision to suspend talks hurts the "whole world."
"They think they're punishing us by shutting down this channel," Mr Kirby said. "They're actually punishing the whole world because the climate crisis doesn't recognize geographic boundaries and borders."
Graig Graziosi5 August 2022 19:58
1659722940
Chinese foreign minister cancels talks with Japanese official, accuses US of spreading misinformation
On Friday, Chinese foreign minister Wang Yi walked out of a conference meeting of Asian countries during the speech of Japanese foreign minister Yoshimasa Hayashi. He then cancelled a meeting with Mr Hayashi, who he claimed may have had a "guilty conscience" for not supporting China's reaction to House Speaker Nancy Pelosi's visit to Taiwan.
"If the Japanese side has some concern about this, then I am afraid the Japanese side should think about whether they have done something very wrong to China," he said during a press conference after his walkout. "If you have not done anything wrong to China, why are you worried about this?"
He also accused US Secretary of State Antony Blinken of spreading misinformation and said that China's response was "firm, forceful, and appropriate."
Sergey Lavrov, Russia's foreign affairs minister, also left Mr Hayashi's speech alongside his Chinese counterpart.
Mr Hayashi later told reporters that Japan is always willing to have discussions with China.
Graig Graziosi5 August 2022 19:09
1659719492
Taiwan deploys ships, missile defence systems to monitor Chinese aircraft near the island
Reuters reports that Taiwan's defence ministry deployed aircraft, ships, and missile defense systems on Friday in response to China's live-fire drills in the Taiwan Strait.
Officials said those defenses were mobilised to monitor Chinese jets that once again crossed the median line between the island and the mainland on Friday.
Graig Graziosi5 August 2022 18:11
1659714717
Chinese military spokesperson accuses US of 'foreign aggression'
Hua Chunying, a spokesperson for China's military, accused the US of participating in "foreign aggression."
"China had historically been a victim of foreign aggression. Today, the US still grossly interferes in China's internal affairs and attempts to undermine China's sovereignty and security from time to time," she said on Twitter. "If the US is indeed a responsible country, it should have prevented #Pelosi's irresponsible aggression early on and it should have removed the many military vessels and aircraft it has deployed right at China's doorstep."
She said the US was using "salami tactics" — an accusation that European analysts have lobbed at China in the past — to "hollow out the One China principle."
Graig Graziosi5 August 2022 16:51
1659711770
Taiwan estimates nearly 50 Chinese jets crossed median line on Friday
The defense ministry in Taiwan issued a statement claiming that 49 Chinese jets apparently crossed the "median line," which serves as an unofficial border between the island and China.
All 49 jets reportedly crossed over the median line before turning around and returning.
Chinest jets have been pulling similar moves since House Speaker Nancy Pelosi visited Taiwan. On Wednesday 22 Chinese jets slipped across the median line, and another 22 did so on Thursday.
Graig Graziosi5 August 2022 16:02
1659708589
Taiwan's Prime Minister Su Tseng-chang told reporters Friday that he was calling on China to de-escalate after it began holding live-fire drills in a protest of House Speaker Nancy Pelosi's visit to the island. He asked for Taiwan's allies to support the call for peace.
The prime minister said Taipei did not expect China to disrupt one of the world's busiesest waterways over a diplomat's visit.
"(We) didn't expect that the evil neighbour next door would show off its power at our door and arbitrarily jeopardise the busiest waterways in the world with its military exercises," he said.
Graig Graziosi5 August 2022 15:09
1659706766
NSC spokesman says US does not want 'crisis' but will not be stopped from traveling the Pacific
National Security Council spokesman Adrmiral John Kirby told Reuters that Chinese ambassador Qin Gang was called to the White House to discuss the latest spike in tensions between the US and Beijing. According to Mr Kirby, the ambassador was told that China's reaction to House Speaker Nancy Pelosi's visit to Taiwan was irresponsible and incongruent with the goals of maintaning global peace and stability. According to Mr Kirby, the White House impressed on the ambassador that the US does not want "a crisis" but will also not be deterred from free travel throughout the Pacific.
"We also made clear that the United States is prepared for what Beijing chooses to do. We will not seek and do not want a crisis," Mr Kirby said. "At the same time, we will not be deterred from operating in the seas and skies of the Western Pacific, consistent with international law, as we have for decades, and supporting Taiwan and defending a free and open Indo-Pacific."
Graig Graziosi5 August 2022 14:39
1659704491
Taiwan foreign minister says China crossed median line to 'simulate attacks'
The foreign minister of Taiwan Joseph Wu has tweeted that many of the Chinese planes and vessels "crossed the median line of the strait" on Friday "to simulate attacks".
"This dangerous escalation of the military threat is wrecking peace & stability in the region and must be condemned", he wrote on the account of the Ministry of Foreign Affairs.
Gustaf Kilander5 August 2022 14:01
NewerOlder