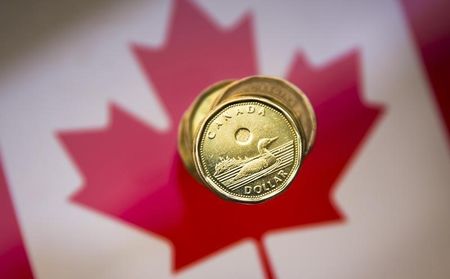 Loonie Rallies to One Month High Ahead of Domestic CPI, Fed Decision
By Ketki Saxena
Investing.com – The Canadian dollar rallied to a one-month high against its U.S. counterpart, today, boosted by upbeat investor sentiment ahead of an expected rate hold by the U.S. Federal Reserve this week.
"The Canadian dollar is reflecting global growth optimism at the moment," said Adam Button, chief currency analyst at ForexLive. "China last week stepped up with more stimulus, and American economic data continues to impress."
The loonie's gains also come ahead of domestic inflation data, which will provide further insight on the Bank of Canada's rate path ahead.
Canadian inflation is expected to rise to 3.8% from 3.3% on a monthly basis, driven by rising energy prices, and providing more evidence that boosts the case for the Bank of Canada to hike interest rates.
"Canadians would love the central bank to declare that rate hikes are over. That's not coming any time soon given the stickiness of inflation and the rise in energy prices," Button noted.
The case for further rate hikes from the Canadian central bank boosts Canadian bond yields, thus supporting the loonie.
The Canadian dollar was also supported by a gain in crude prices on worries of tight supply this year on OPEC+ output cuts and weak US shale production.
Looking ahead for the loonie on a fundamental level, analysts at Scotiabank (TSX:BNS) note, "CAD gains – so far – are limited and there is enough event risk ahead to keep markets cautious on the prospects for the CAD recovery to extend. But it remains somewhat undervalued and perhaps oversold on the charts."
On a technical level for the pair, analysts at FX Street note "The Dollar-Loonie pairing is trading to the midpoint of familiar territory initially reached in late 2022, and the pair is rapidly approaching the 200-day Simple Moving Average (SMA) near 1.3464 as prices slip past the 34-day Exponential Moving Average (EMA), currently turning bearish into 1.3505.
The Relative Strength Index (RSI) and Moving Average Convergence-Divergence (MACD) indicators are firmly bearish on daily candlesticks, and the indicators are warning buyers that there could still be plenty of room to run towards the downside before a successful bullish offensive can be mounted."
News Related
OTHER NEWS