Multiple VERIFY readers asked us about claims that undocumented immigrants get a monthly stipend from the government. Here's what we found.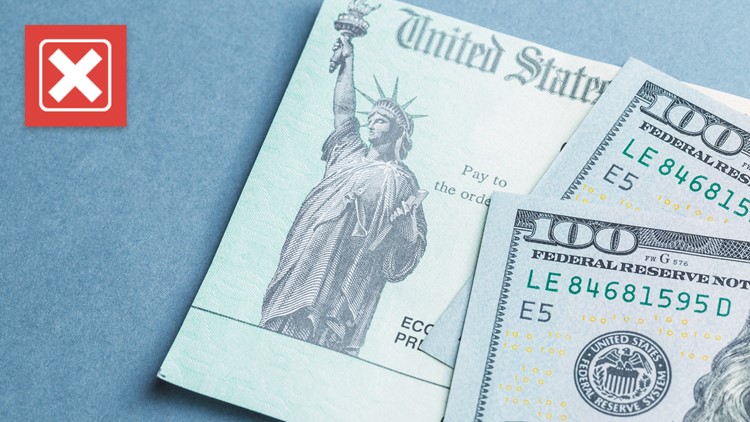 Credit: Jeff McCollough – stock.adobe.com
A viral post from U.S. Rep. Lauren Boebert (R-Co.) claims the federal government is giving undocumented immigrant families $2,200 per month.
"If you come to this country illegally, you get everything handed to you on a silver platter," Boebert wrote. "If you're a struggling American citizen, you get nothing. You actually just subsidize this foolishness."
Multiple VERIFY readers, including Bobby and Sylvie, asked if undocumented immigrants really receive a $2,200 monthly stipend from the federal government.
THE QUESTION
Does the federal government give undocumented immigrants $2,200 per month?
THE SOURCES
THE ANSWER
No, the federal government does not give undocumented immigrants $2,200 per month.
WHAT WE FOUND
Multiple sources confirmed to VERIFY that the claim about monthly payments for undocumented immigrants is false. Undocumented immigrants don't receive any financial assistance from the federal government, several agencies said.
The term "undocumented immigrants" broadly refers to anyone who lives in the United States without legal status.
Under federal law, undocumented immigrants are generally "not eligible for most federal benefits," the Congressional Research Service (CRS) said in a November 2022 report.
This means they cannot receive non-emergency Medicaid, Supplemental Nutrition Assistance Program (SNAP) benefits and Supplemental Security Income, according to the National Immigration Law Center.
The Department of Homeland Security, which oversees federal immigration agencies, does not provide financial assistance of any kind to undocumented families, a spokesperson for U.S. Customs and Border Protection (CBP) told VERIFY.
Jewish Family Service of San Diego, a nonprofit that provides services to some immigrants, and the California Welcoming Task Force, also told VERIFY neither undocumented immigrants nor people seeking asylum in the U.S. receive monthly payments from the federal government.
At most, asylum seekers may receive small amounts of money for food or personal expenses from nonprofit organizations, Jewish Family Service said.
Refugees do have access to federal money for personal expenses. But this comes in the form of a one-time payment – not a monthly stipend.
A refugee is a person who "demonstrates that they were persecuted or fear persecution due to their race, religion, nationality, political opinion or membership in a particular social group," U.S. Citizenship and Immigration Services (USCIS) says on its website. Federal law allows refugees to resettle to the United States through the government's Refugee Admissions Program.
Refugees who have been selected for resettlement through the program are eligible for assistance from one of 10 nonprofits upon their arrival in the United States, the State Department says on its website.
A spokesperson for the State Department told VERIFY that the agency "does not provide assistance to undocumented immigrants in the United States."
The State Department does provide a one-time payment of $2,375 per refugee to local resettlement affiliates, according to its website. About $1,200 of that money is available for agencies to fund "critical direct assistance needs of refugees, such as rent, food, clothing, and furnishings," according to the federal agency.
"The remainder of the per capita funds is used to fund the delivery of services by resettlement staff, such as locating and preparing housing, cultural orientation, enrollment of youth in school, assistance with access to employment, medical and legal services, and case management during refugees' first three months in their new communities," the State Department says.
So, we can VERIFY that undocumented immigrants do not receive $2,200 monthly payments from the federal government. Refugees do receive federal assistance, but this is a one-time payment and not a monthly stipend.
News Related
OTHER NEWS