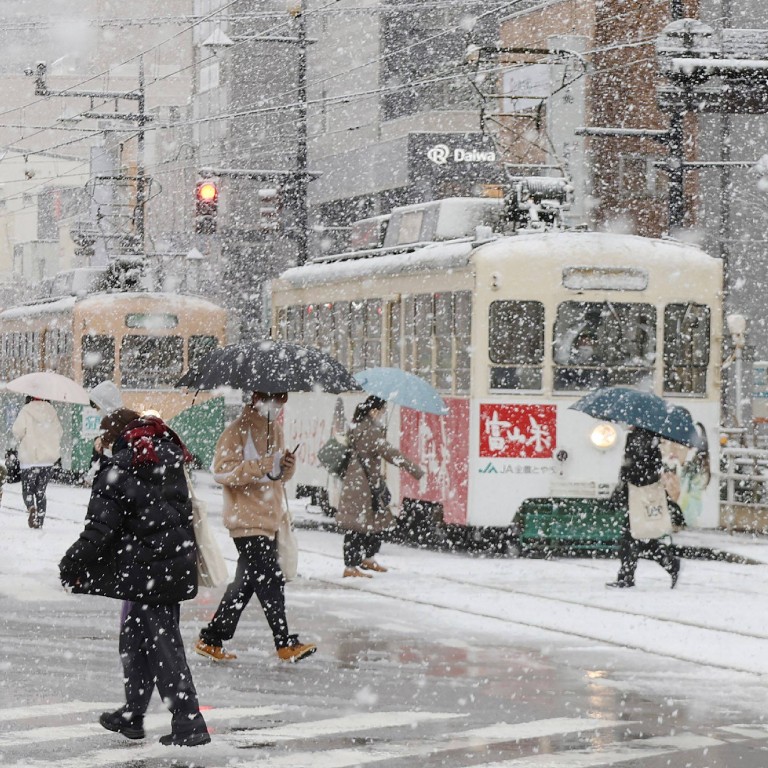 Thousands of Hong Kong tourists in Japan are facing disruptions in their holiday plans as a "once-in-a-decade" blizzard rips through the country, shutting down railways and major thoroughfares.
Holidaymakers about to set off for Japan remained undeterred on Wednesday, as they continued to monitor flights bound for one of the city's most popular travel destinations.
Those already in Japan, meanwhile, were left with no choice but to change plans, with many stranded in coaches stuck in traffic, according to Steve Huen Kwok-chuen, head of a travel agency specialising in Japanese tours.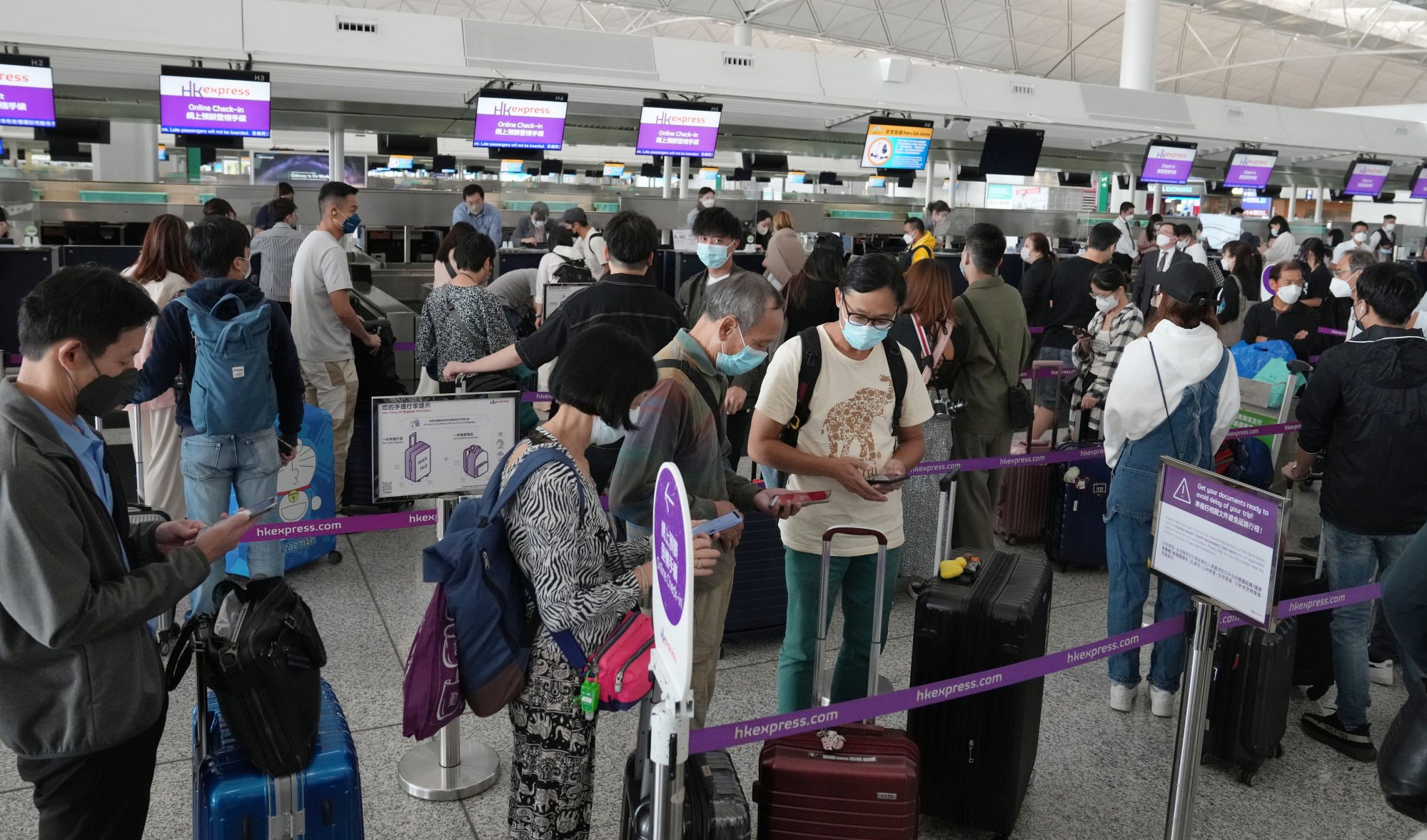 Outbound travellers at Hong Kong's airport. Many in the city are headed for Japan with Covid restrictions on both sides eased. Photo: Sam Tsang
Kwok, executive director of EGL Holdings, said his company had between 2,000 and 3,000 clients in the country across 60 tour groups, adding that while customers were not affected by flight changes, local transport and infrastructure had become unstable.
"Due to the heavy snow, many highways and railways have shut down, causing hurdles for tour groups to reach their destinations or accommodation," he said.
Kwok added that at least three groups in Hokkaido bound for Furano, a popular spot for ski enthusiasts, had to turn back due to extreme weather.
Other groups in the southern prefecture of Kyushu and in the city of Kanazawa, home to many Japanese gardens along the coastline of the Sea of Japan, changed their hotels.
"But tourists have been very understanding as they know the situation was caused by extreme weather," Kwok said, adding that such blizzards were rare.
He expected the situation to improve with the weather stabilising on Wednesday.
Yuen Chun-ning, executive director of travel agency WWPKG, told the press his company had about 1,000 tourists in Japan.
He said 60 were briefly stranded at Kansai International Airport in Osaka on Tuesday with services on the bridge connecting the island airport with the mainland suspended.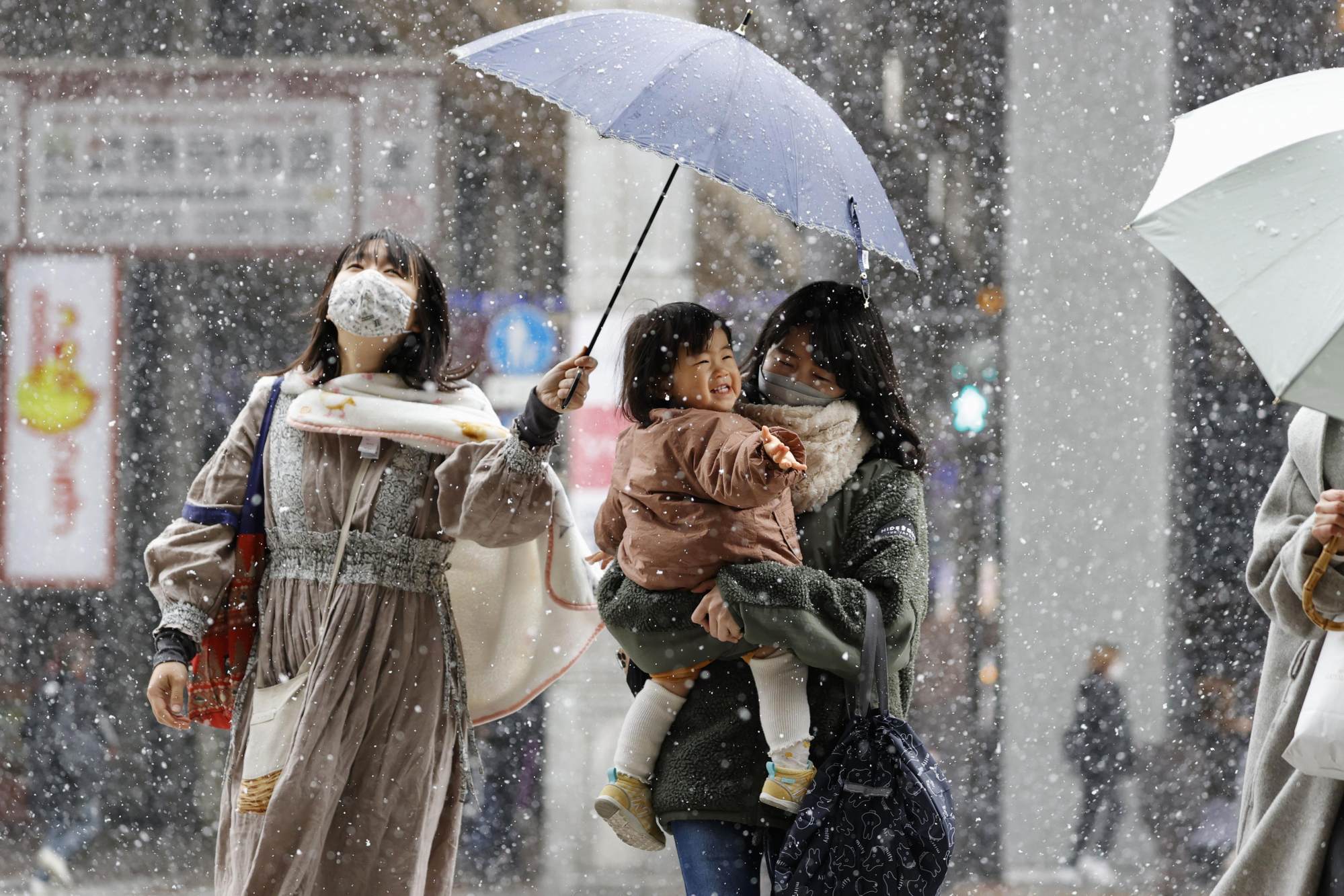 Kagoshima in southwestern Japan is also affected by the rare blizzard. Photo: Kyodo
The Japan Meteorological Agency has warned of a cold spell seen "only once in a decade" across wide areas of the country, especially in the western and eastern regions between Tuesday and Thursday, leading to power outages, traffic blockades and frost. Residents have been advised to stay indoors.
A video circulated online shows strong wind blowing into a JR railway station in Kyoto, which is partially outdoors, with passengers covering themselves in thick layers of clothing as snowflakes from the intense storm find their way into the facility.