Rickie Fowler has accused the PGA Tour of fumbling its response to the breakaway LIV Golf series.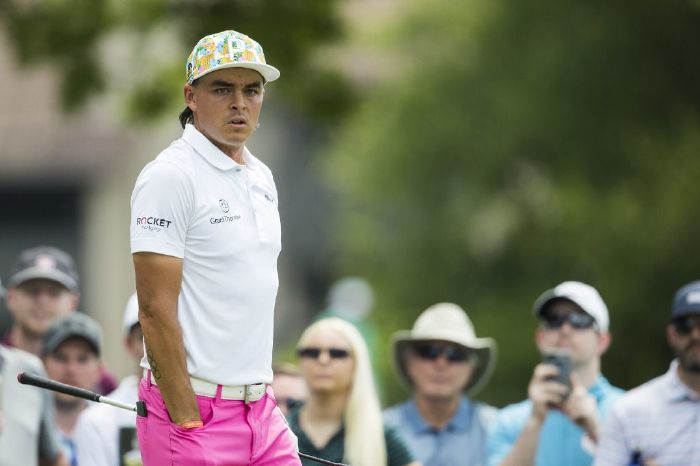 Fowler was one of the roughly 20 PGA Tour pros who joined Tiger Woods for a crisis meeting in Wilmington, Delaware, on Tuesday to discuss the continued threat of the Saudi-backed series, which is shelling out big money to lure some of the biggest players in the world away from their regular tours.
The meeting was reportedly aimed at getting PGA Tour players to formulate a unified plan to tackle LIV Golf's ongoing encroachment.
The players then met with PGA Tour commissioner Jay Monahan to discuss the problem.
"I've told the Tour and Jay when I've met with them that I don't think they have handled it very well at all," Fowler told Golf Week.
"A lot of the stuff that has happened in the last six months to a year and is starting to happen, to me they are reacting to it versus when the talks of Premier Golf League and LIV came about is when they should have been proactive and gotten in front of it."
Tiger Woods and Rickie Fowler touch down at Atlantic Aviation as they visit the @BMWchamps. pic.twitter.com/YK5Pnr3Suj

— NBC Sports Philadelphia (@NBCSPhilly) August 16, 2022
The PGA tour's initial strategy was to ban all defectors as soon as they play their first LIV event, a decision that prompted a group of players that includes Phil Mickelson, Bryson DeChambeau and Ian Poulter to sue the Tour for harming their careers.
Fowler confirmed he was also offered a "mind-boggling" figure to join the breakaway league, but he still feels the PGA Tour is the best place to be.
The American was considered a likely candidate to jump ship after a recent dip in form had seen him drop outside of the world's top 150, but he's staying the course.
"This is where I plan to be," he said. "I would say there is stuff in the works now as far as the things the Tour is trying to do to evolve with kind of modernising and I feel like they are making the right steps now.
"It [LIV Golf] may bring potentially new audiences in just because it's different. At the same time, it's not what golf has always been.
"If there was a perfect world there would be a way to coexist because to me they are very different things."