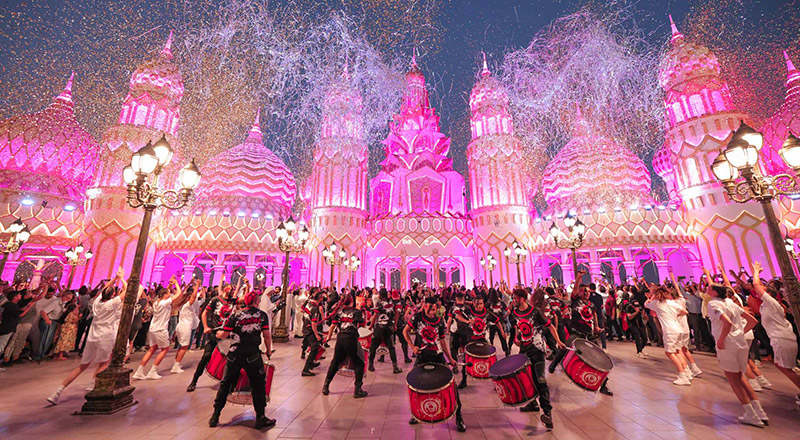 global village dubai
The packs sell out fast, so you have to be quick…
With less than one month to go for Global Village Dubai to open its doors, the multicultural family destination has announced that the pre-sale of its Season 28 VIP packs will commence this weekend.
Pre-booking will begin on Saturday, September 23, 2023 at 10am. During the pre-booking, there will only be a limited number of packs which can be reserved. When you pre-book, you will be given a golden chance to purchase your VIP packs on September 29, 2023 – that's a day before the sale opens up to the public
The official sale launches to the public on Saturday, September 30, 2023. Reservations can be made online at virginmegastore.me
Remember, the VIP packs are quite popular and sell out fast, so you best set those alarms.
What's inside the pack?
global village VIP Packs
The VIP packs contain a number of goodies Global Village fans will just love.
It includes VIP entry tickets, a VIP parking access card and, Wonder Pass cards which can be used at a number of Global Village attractions such as Ripley's Believe it or Not!, the Cyber City Stunt Show and Carnaval.
For some fun outside of Global Village, the pack also comes with access to Dubai Parks and Resorts attractions such as Neon Galaxy and Jump X, access to Roxy Cinemas, Inside Burj Al Arab tickets and access to Sea Breeze.
There are a number of packs to choose from depending on your requirements: Diamond, Platinum, Gold or Silver VIP Packs.
That's not all. Global Village Dubai has a hidden prize inside one of the VIP Packs – a cheque worth Dhs28,000, to commemorate 28 seasons of the most visited family destination in Dubai.
Additionally, in the spirit of the Year of Sustainability, all VIP packs will include seeds of change which VIP pack owners are encouraged to plant.
So, how much do the packs cost?
Diamond VIP pack will cost you Dhs7,000; Platinum packs are Dhs2,950; Gold packs are Dhs2,250 and Silver Packs are Dhs1,750. You will need to be over the age of 18 with a valid Emirates ID to purchase a pack.
Global Village Dubai has revealed that further exciting announcements will be revealed soon. Stay tuned to whatson.ae
Images: Supplied by Global Village Dubai
News Related
OTHER NEWS