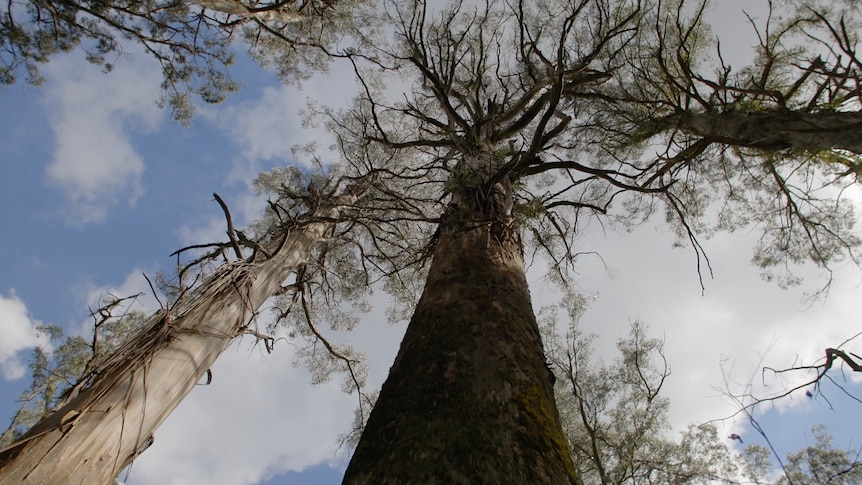 No music, no voices. Just the sound of the mountain ash forest.
The Mountain Ash is the tallest flowering plant in the world, a eucalypt that can reach 90m in height. And beneath its arbour is an incredible array of wildlife, including an incredible chorus of birds.
I recorded this while filming Australia's Favourite Tree for ABC Catalyst near Marysville in Victoria.
It was a cold, misty morning on Taungurong Country and among the first sounds that can be heard in this recording is a male lyrebird practising some of his repertoire – both mimicry and his own sounds.
00:01:51 The lyrebird is imitating a black cockie here.
00:03:42 this lazer sort of sound is the lyrebird's own sounds.
00:06:25 The lyrebird makes both the male and female components of the whip bird call!
00:06:55 Heeeeere comes a parrot, screaming as it goes.
00:07:20 Pied Currawongs call to each other in the distance.
00:23:00 A fly fly-by!
00:35:10 Actual yellow tailed black-cockatoos incoming!
00:36:40 This incredibly sharp-sounding call is the pilot bird, a small brownish bird of the understorey. So-called because it sometimes 'pilots' the lyrebird, taking advantage of the lyrebirds superior digging skills to grab invertebrate prey uncovered.
00:56:40 Tune your ear to higher frequencies to hear a wonderful insect calling in pulses.
01:02:40 We've got some sulphur-crested cockatoo begging happening here. Consistent nagging like a toddler at the top of a tree. 
01:30:50 A pair of real whipbirds make an appearance here, with a two-part duet consisting of build and whip, and then an answering 'chew chew.'
01:34:20 The wing beats of a bird in flight.
01:56:30 Among the smaller birds, perhaps scrubwrens and thornbills, and definitely a grey fantail and a pilotbird, you can hear the black-cockies take flight and call to each other, the pied currawong. 
Mix Engineer: Isabella Tropiano. 
This program is produced on the land of the Wathawurung people.