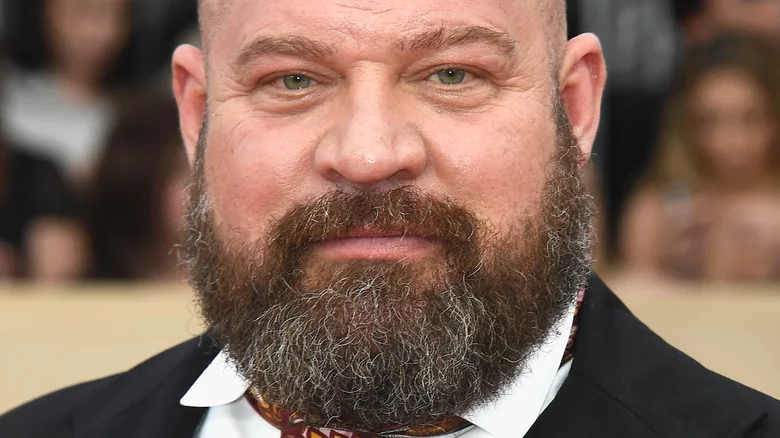 Frazer Harrison/Getty Images
Actor and former NFL player Brad William Henke died at the age of 56 on November 29, 2022. According to Deadline, Henke's family officially announced his death, stating that he died in his sleep. However, no cause has been given. Henke's manager, Matt DelPiano, said to TMZ, "Brad was an incredibly kind man of joyous energy. A very talented actor, he loved being a part of this community … and we loved him back. Our thoughts are with his wife and family." After his 1994 retirement from a professional football career that included a chance to play in Super Bowl XXIV with the Denver Broncos, Henke successfully transitioned into a stellar acting career with roles in "Lost," "Justified," "The Stand," and "Pacific Rim."
Yet perhaps one of Henke's best-known roles was the sympathetic villain prison guard, Desi Piscatella, in "Orange Is The New Black." Henke considered his portrayal of Desi as a life-changing role. With "Orange Is The New Black," the actor earned much critical praise, as well as a Screen Actors Guild Award. Henke had an undeniable passion for acting and a drive always to improve. "I look for the [jobs] that make me a better actor," Henke said in an interview with Tell-Tale TV. "Because at this time of my life, I'm just trying to, I don't want to say master something, because you can't, but just be as good at something as I possibly can."
The former NFL athlete found a fulfilling career beyond football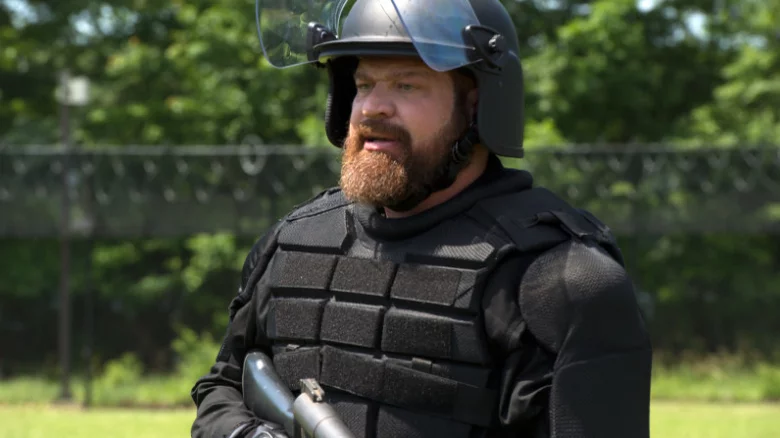 JoJo Whilden/Netflix
Per Deadline, Brad William Henke was born in Columbus, Nebraska, on April 10, 1966. After a successful time playing college football for the University of Arizona, Henke was drafted into the NFL by the New York Giants in 1989. By the tail end of his career in pro football, he was playing for the Denver Broncos. As Henke told Looper in a 2021 interview, a college injury to his left ankle got terrible to the point where the athlete had no choice but to retire. However, after working a series of odd jobs, his acting career began after he received a tip about a commercial that required football players. After landing some commercials, it wasn't long before Henke started expanding into film and TV.
In 1996, Henke got his first movie gig in the Ellen DeGeneres film, "Mr. Wrong" (via IMDb). What continued afterward was a consistent string of roles that even included "Manhunt," "Space Jam," and "October Road," just to name a few. Henke's career in Hollywood spans multiple decades, which is no easy feat for any actor. In addition, he felt grateful that he could find something fulfilling beyond a life in football. "I'm fortunate I've found something I love to do a million times more than playing football," Henke said in an interview with the Tucson Citizen. "I was kind of lost for a while after my football career ended, and I'm so glad I found this. I didn't want to spend the rest of my life with the best of my life already behind me."
According to Deadline, Henke is survived by his wife Sonja, stepson Aaden, stepdaughter Leasa, grandchild Amirah, mother Tammy, and sister Annette.