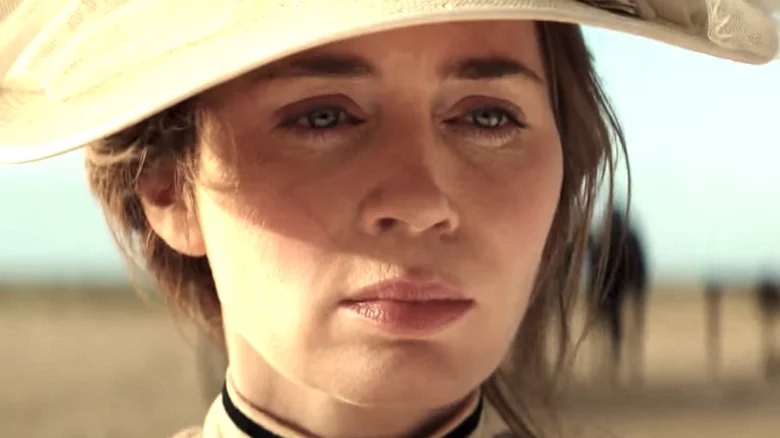 BBC Studios/Amazon Studios/YouTube
There's a full-blown Western renaissance taking hold of Hollywood these days. That has resulted mainly from the runaway success of Taylor Sheridan's smash hit ranching saga "Yellowstone," which continues to reign as one of the most watched series on cable television. While "Yellowstone" has already inspired a handful of spin-off series, it's also inspiring other networks, studios, and streamers to take their crack at the Western game.
The latest backer to go the way of the Old West is, surprisingly, BBC Studios, who've partnered with Amazon Studios to produce the Western drama known as "The English." The upcoming mini-series has been on many must-see lists since it was first announced in 2020 (per Variety). Anticipation for the project has grown of late, with a slew of first-look images making the media rounds (via Variety) and the announcement that "The English" will debut at the BFI London Film Festival in October (according to Variety).
If you count yourself on the list of folks anxious to learn a little more about "The English," here's everything we know about the new series.
Who will star in The English?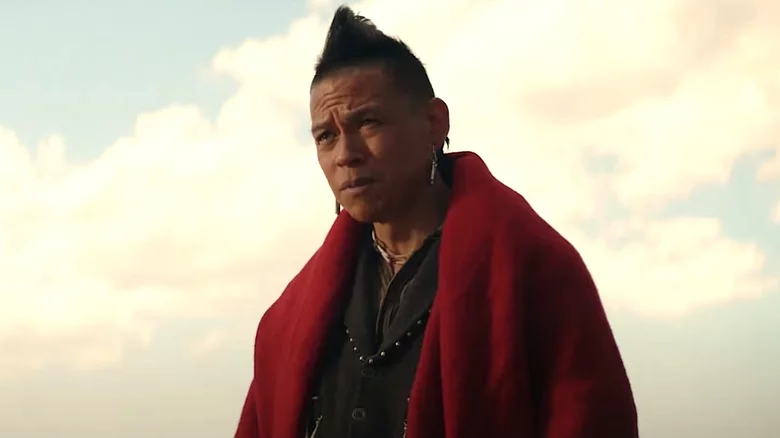 BBC Studios/Amazon Studios/YouTube
As one might expect this close to the series' debut, there's quite a lot of information about the new Western drama. Information has hardly been scarce about "The English" since it was first announced, with the 2020 Variety article above confirming the series would indeed front the formidable talent of Emily Blunt. Further casting announcements came in May of 2021, with The Hollywood Reporter confirming Blunt would be joined in "The English" by an all-star cast, including Chaske Spencer ("Wild Indian"), Rafe Spall ("The Ritual"), Ciarán Hinds ("There Will Be Blood"), Tom Hughes ("A Discovery of Witches"), Stephen Rea ("The Honorable Woman"), and Toby Jones ("The Mist") among many others.
You might've noticed that's a very, ahem, English cast. And yes, it's a necessary bit of casting as English settlers will be at the heart of "The English" narrative. But it likely also has to do with the series being backed by the BBC and written, produced, and directed by British filmmaker Hugo Blick, whose past offerings include BBC hits like "Marion and Geoff" and "The Shadow Line," along with the award-winning Sundance TV series "The Honorable Woman" and Netflix's "Black Earth Rising." The Western genre will be new territory for Blick, but given his pedigree, there's little reason to suspect he won't deliver the goods.
What is The English about?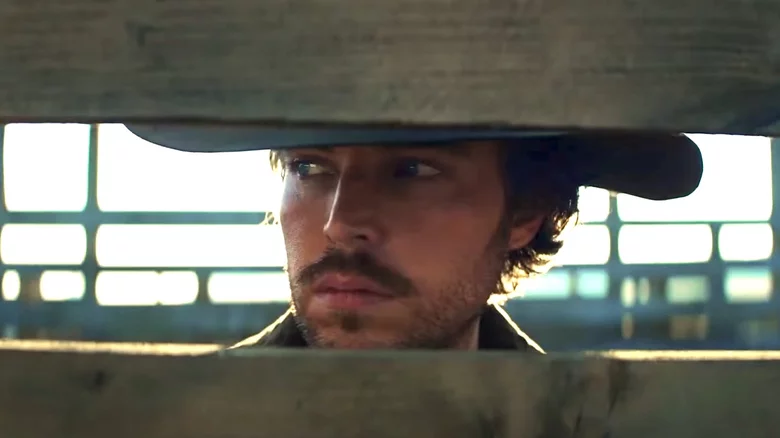 BBC Studios/Amazon Studios/YouTube
As of this writing, it's not entirely clear what Hugo Blick will have many of those UK actors doing in "The English." But it's safe to assume that not all of them will utilize their natural accents in the Old West saga. However, we have a much clearer idea of what stars Emily Blunt and Chaske Spencer will get up to. And according to Vogue, the series will focus on Blunt as an Aristocratic Englishwoman named Cornelia Locke. After traveling to America in 1890, the latter enlists the help of Spencer's Eli Whipp (a former cavalry scout and member of the Pawnee Nation) in a dangerous revenge mission.
Yes, "The English" will be a classic tale of Western vengeance. As for why Locke is out for blood, it seems her departed son fell victim to some nefarious deeds from a man back in England. After tracking him to the American West, she sets her sights on bloody retribution. En route to their showdown, it's revealed Whipp has his bone to pick with the titular faction, with the requisite carnage sure to ensue. As for why he chose to tell this tale of Western vengeance, Blick told Vogue, "Something about its huge landscapes, mythic heroes and villains, the epic violence and love they pursue, can speak directly to our souls."
What is the release date for The English?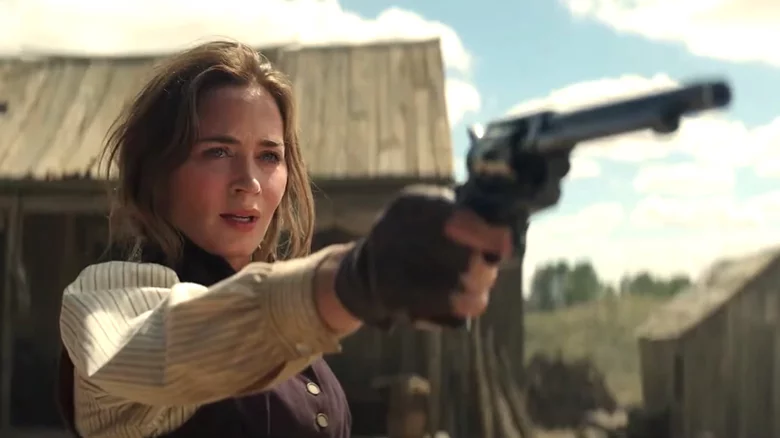 BBC Studios/Amazon Studios/YouTube
It remains to be seen if Hugo Blick's tale of hard-earned revenge will live up to those lofty narrative ambitions. And as it is, two years after "The English" was first announced, those itching to see it will have to wait a little bit longer to find out. As noted by Entertainment Weekly, UK critics and cineastes will get the first crack at Blick's Western saga when the series premieres at the BFI London Film Festival on October 15, 2022. The mortals will have to wait another month to feast eyes on Emily Blunt's gun-slinging aristocrat in "The English," with the series set to make its official premiere in November.
If you want to know where to watch "The English" when it finally arrives, EW adds that the six-part miniseries will debut in the UK on both BBC 2 and BBC iPlayer on November 10, 2022. All six episodes of the show will reportedly hit Amazon Prime Video a day later (November 11).
Is there a trailer for The English?
The good news is that if you cannot wait that long to get a taste of what "The English" is pushing, both BBC and Prime Video have recently released new trailers for the series, the latter of which also confirms its November 11, 2022, streaming debut. And judging from both clips, it seems that Hugo Blick and company have conjured a bloody beast of a Western treat for genre diehards.
The BBC version finds stars Emily Blunt and Chaske Spencer front and center for much of the action, presenting their character's fateful meeting before pitting them on the long, dusty trail to frontier justice. As the trailer unfolds, that journey appears to transform Blunt's Cornelia Locke from a wealthy, fashionable aristocrat who can shoot if she has to into a battle-tested gun-slinger bent on achieving her singular task. Glimpses of foes, fights, and maybe even a dash of romance light their path. So too do long, sweeping, almost painterly shots of the sprawling Western landscape.
The 40-second Prime Video clip, however, presents "The English" as a slightly surrealistic Western saga full of vivid, violent imagery and a somber voice-over from Blunt that teeters on poetically morose. Somewhere in the mix, "The English" may endeavor to become a brutalist, if not nihilistic Western epic befitting the increasingly complicated modern world.