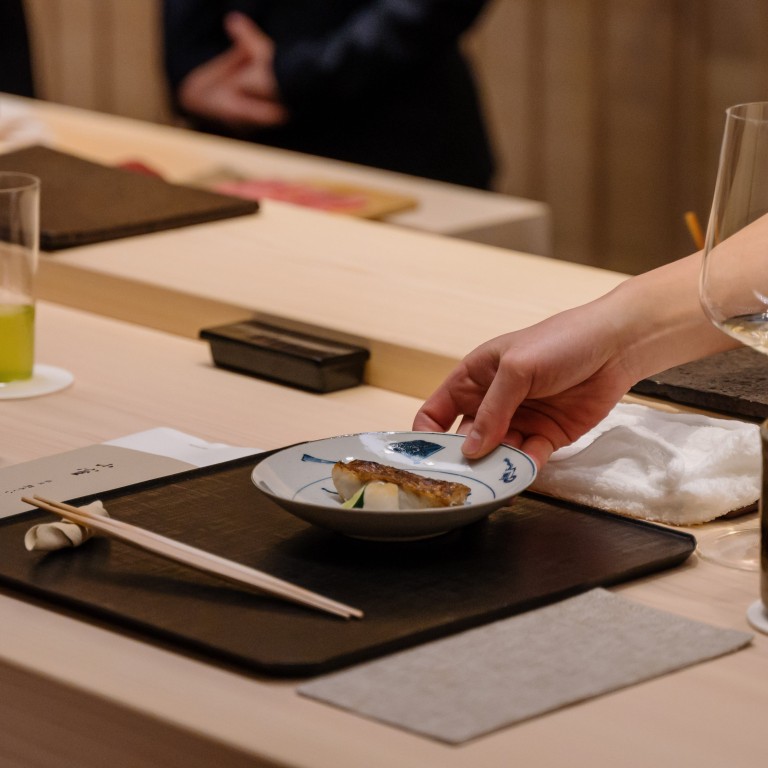 Although Komuro – a new eight-seat sushi restaurant in Shenzhen's well polished Nanshan district – was born of the founders' vision of creating a small, intimate dining destination, the statement they hope to make with it is much bigger.
"We wanted to show the world that there is good sushi available in China," says Andrew Yip, one of the owners of Komuro.
For Yip, "good sushi" is about recreating for diners in the southern Chinese city the most authentic Edomae-style sushi – defined by its emphasis on marinated and cured fish – that one can get in Japan.
Equally important to the Komuro team in the long term is gradually developing its own sushi style that incorporates more Chinese elements.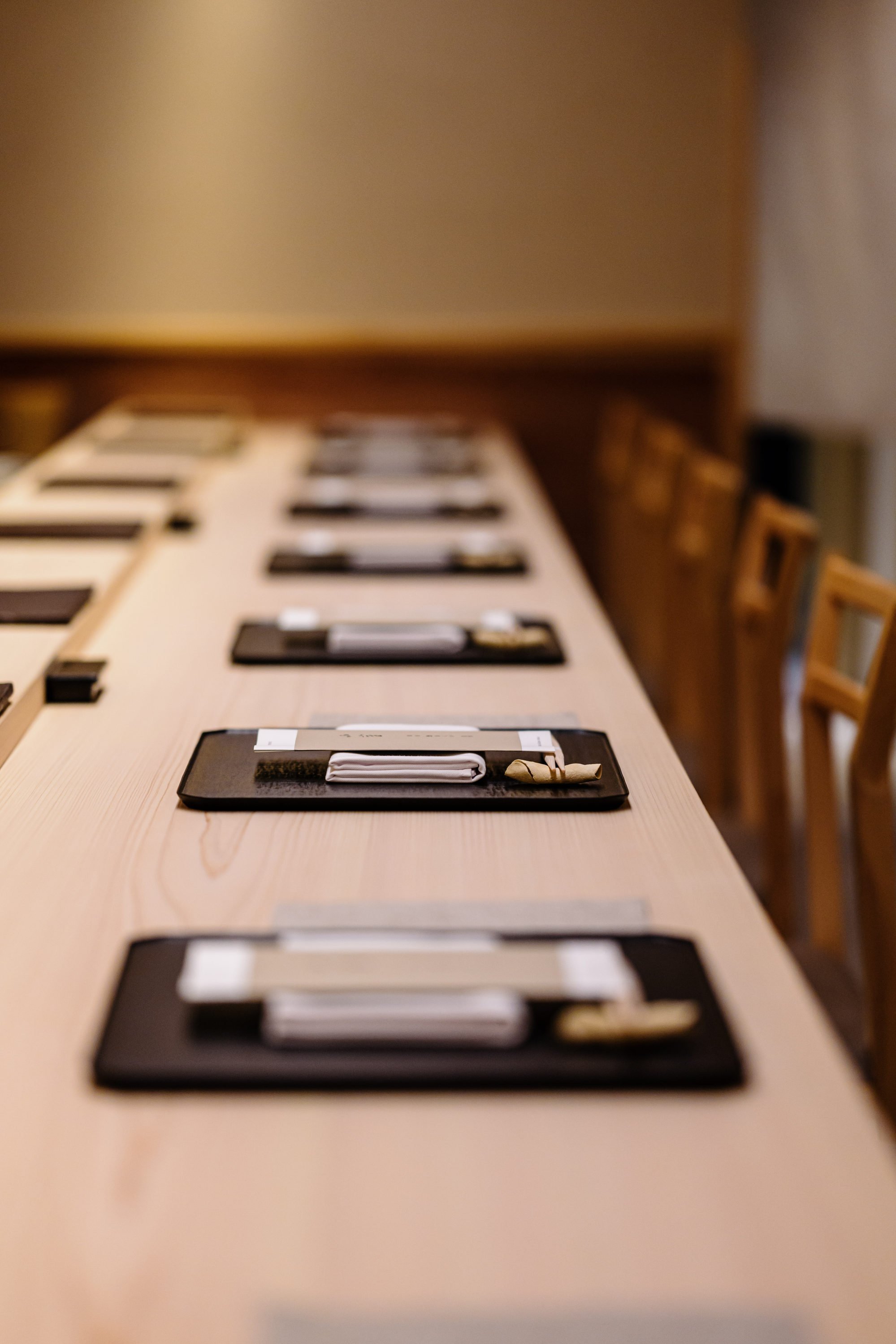 Komuro only serves one round of dinner each day. Photo: Komuro
Right now, the Chinese influence is limited to a few ingredients, some interior design components and tableware. They hope to expand it and to evolve the restaurant's identity.
This does not come naturally – unlike other big cities in the world with an established international culinary ecosystem, Shenzhen's international dining scene is still in its early days. This is especially so when it comes to high-end sushi.
We are experimenting with local fish, but it will take time to make the full transformation
Komuro chef Duan Jinbo on China's banning of Japanese seafood imports
The majority of local diners have not yet developed a taste for authentic sushi and there are practical issues to consider, such as the setting up of a Tokyo-standard kitchen and securing high-quality fish.
Yuichi Arai, chef-owner of the eponymous Sushi Arai in Ginza, Tokyo, is a consultant for Komuro. The recipes and sequence of sushi served at Komuro are exactly the same as Sushi Arai, down to the way the fish is prepared and the rice is cooked.
The restaurant's ties with Sushi Arai are close. In August, Mei Kogo – a protégé of Arai's and one of the few female sushi chefs in Tokyo – took part in a four-hands collaboration with Komuro's head sushi chef, Duan Jinbo, in Shenzhen.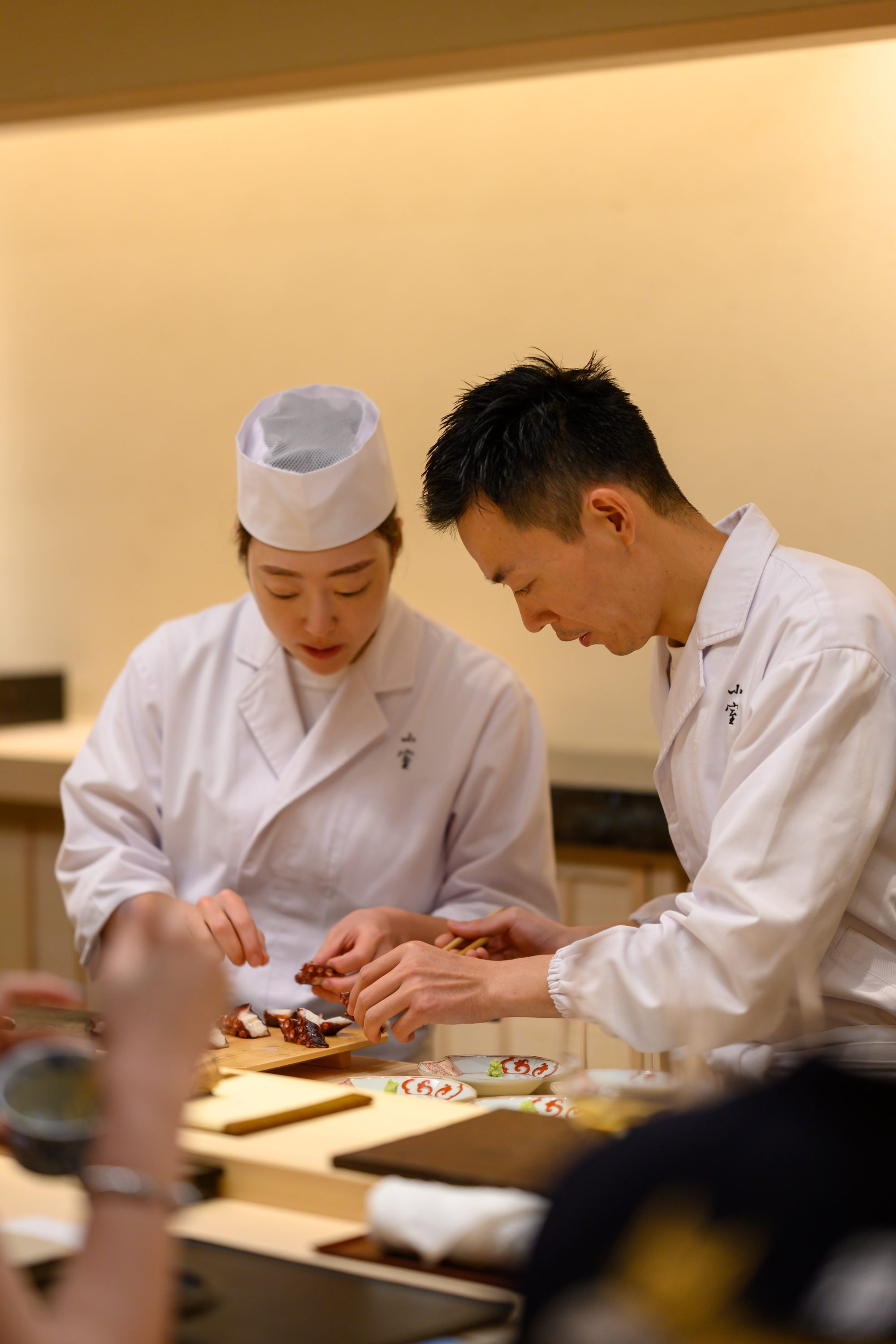 Mei Kogo, who is Yuichi Arai's protégé and one of the few female sushi chefs in Tokyo, took part in a four-hands collaboration with Komuro head sushi chef Duan Jinbo in Shenzhen. Photo: Komuro
Duan, who has been making sushi in China for 10 years and spent six months training at Sushi Arai in Tokyo, has made some adjustments for Komuro based on local characteristics.
"The eating culture is slightly different in Shenzhen than in Japan, not to mention the different climate," Duan says. "I have lessened the moisture level in the rice. It is more textured and cooked al dente. The sharp acidity of the rice is kept the same – Arai-style."
Local ingredients have been incorporated: Duan uses matsutake, a type of mushroom, from Sichuan, southwest China, kue (longtooth grouper) and shiro fuedai (white star snapper), and buffalo milk to make the restaurant's almond tofu dessert.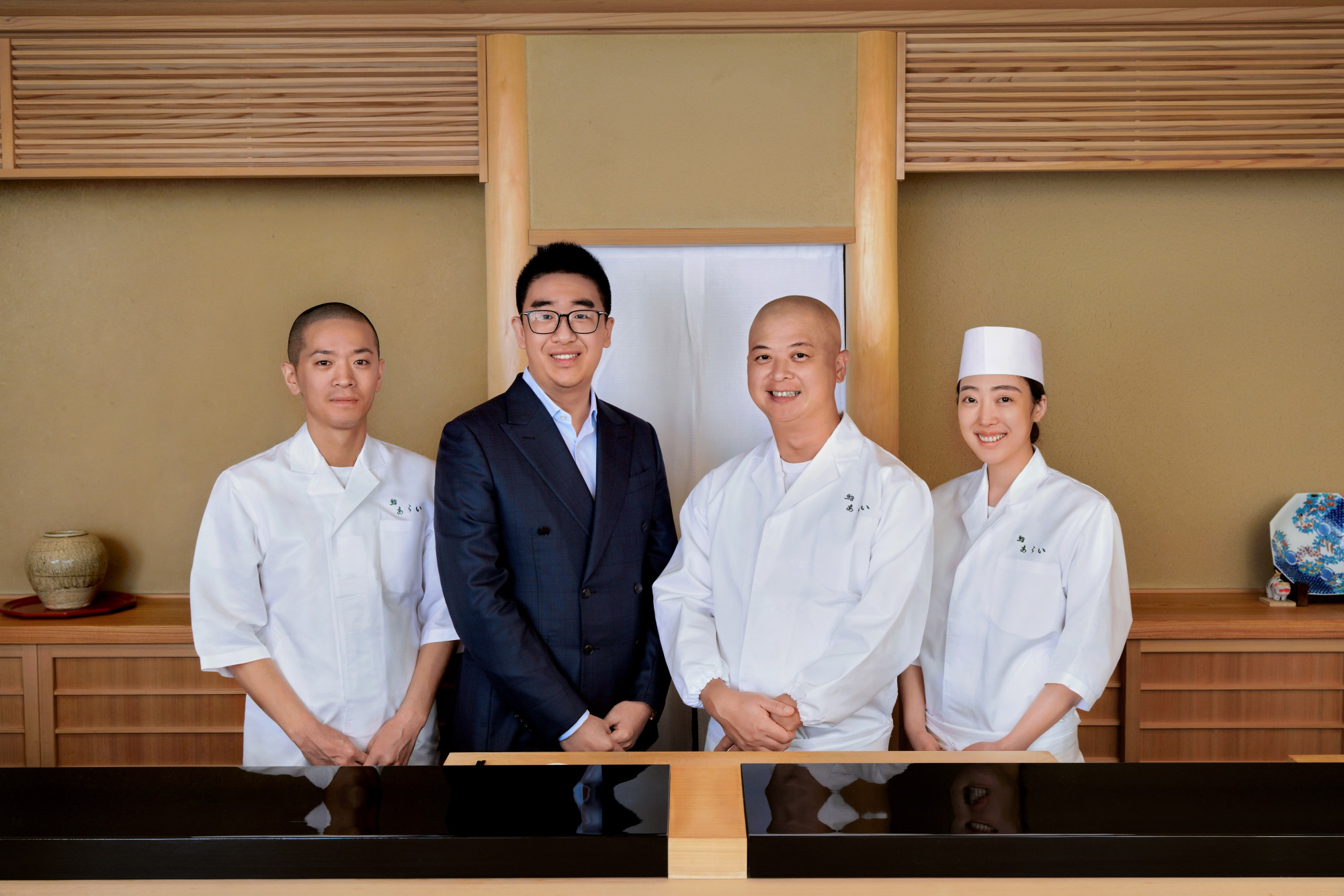 Komuro operates under the consultancy of chef Yuichi Arai (centre right, with his team), the chef-owner of Sushi Arai. Photo: courtesy of Komuro
Before China's August ban on Japanese seafood imports in response to Japan's decision to release treated waste water from the Fukushima nuclear plant disaster, most of the fish served at Komuro was flown in daily from Japan and was the same fish served at Sushi Arai.
After the ban, Komura's owners announced the restaurant had found temporary alternative sources – such as tuna from Spain, the United States and Canada. However the long-term plan has always been to gradually shift to fish caught by local fishermen.
"We are experimenting with local fish, but because our standard of choosing fish is kept the same as Japan, it will take time to make the full transformation," Duan says. "Now we're working with fishermen to teach them the techniques needed."
The restaurant had a soft opening in April and its official opening in August. The response has been good, says Yip, with reservations for the restaurant full until the end of 2023.
Yip says they are being very selective about who can dine at Komuro, because the restaurant has limited capacity and only serves one round of dinner each day.
"We also want people who know how to appreciate authentic sushi to come and enjoy what we offer," Yip says.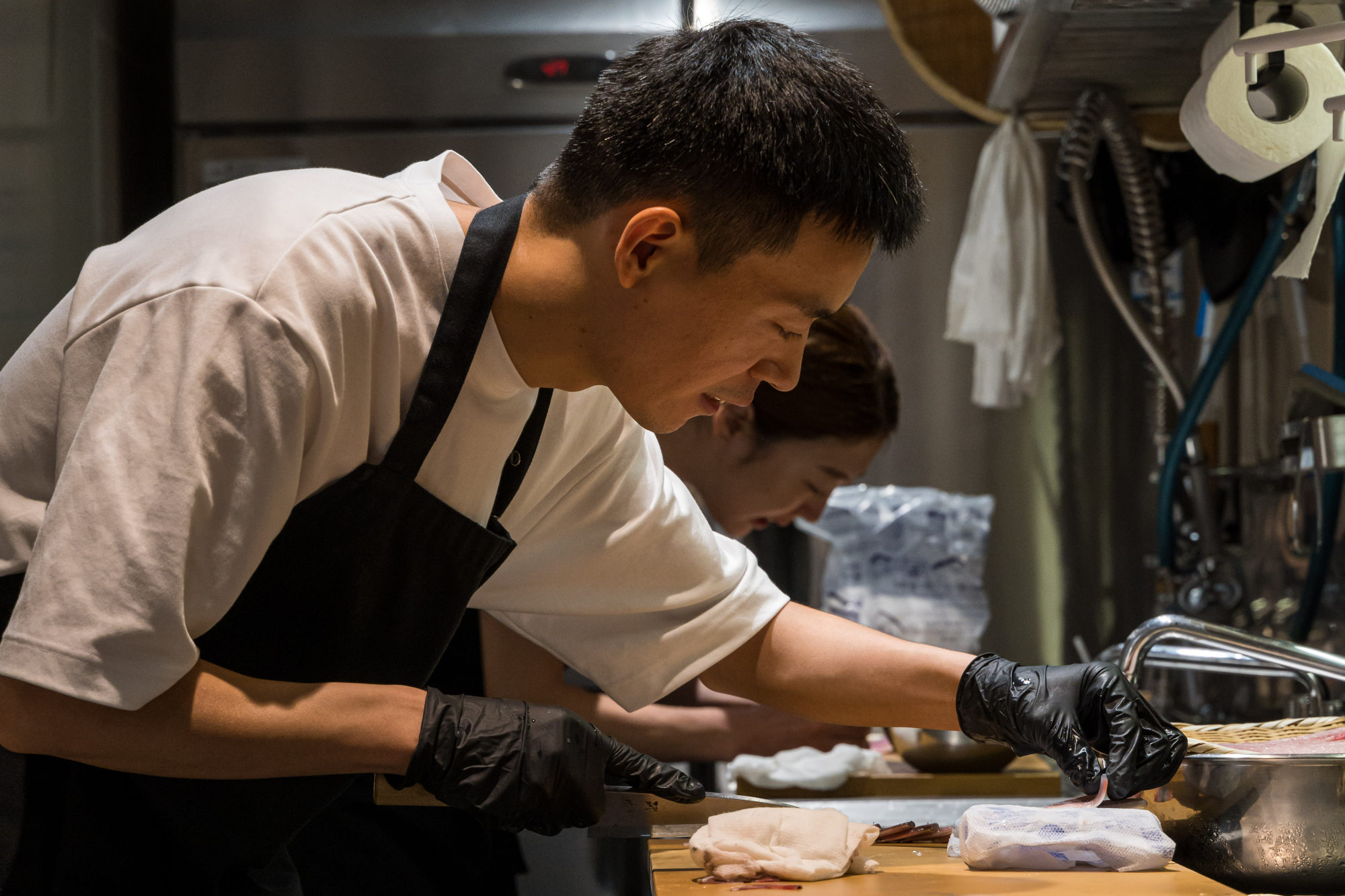 Duan is the head sushi chef at Komuro. Photo: courtesy of Komuro
Only 20 per cent of the slots are open to the general public, who can make a booking through the restaurant's WeChat account. "The rest are only open to referrals – someone whose friend has already dined at Komuro," says Yip.
Between 20 to 30 per cent of the diners come from other cities in China to check out the sushi scene in Shenzhen.
Despite the selectiveness, the feedback has been mixed and not always favourable, Yip admits.
The most common complaints come from diners who say the sushi tastes different to what they are used to having in China. Still, the team behind Komuro say they will not compromise.
"We will stick to our guns and keep educating the market," Yip says.
News Related
OTHER NEWS