Streaming Disney+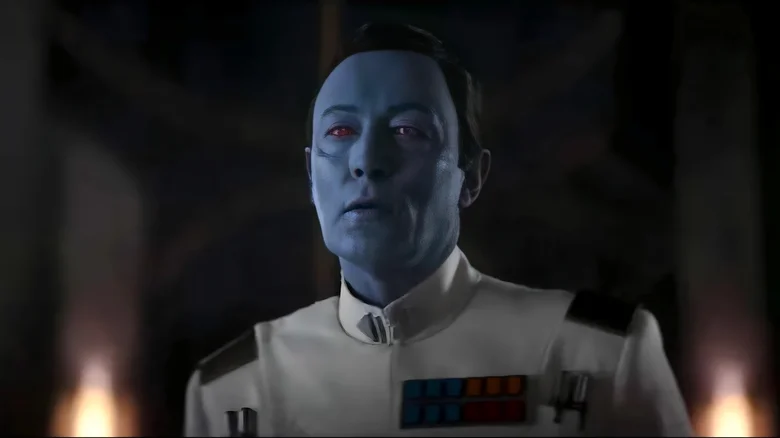 Lucasfilm/YouTube
There's a massive threat looming over "Ahsoka," and it's only a matter of time before Grand Admiral Thrawn (Lars Mikkelsen) returns to wreak havoc on a galaxy far, far away. "Star Wars" has made a habit of bringing animated characters to live-action, and "Ahsoka" has only continued that trend, with Episode 5 giving two major characters their live-action debuts. However, with the series seemingly moving to a neighboring galaxy for Episode 6, it's finally time for the fan-favorite villain to get the spotlight.
Lars Mikkelsen brings Thrawn to life in "Ahsoka" and may look very familiar without his blue-faced Chiss costume. Outside of "Star Wars," the Danish actor starred in "Sherlock," playing opposite Benedict Cumberbatch's legendary detective as the villain of Series 3, Charles Augustus Magnussen. He also appeared in numerous episodes of "House of Cards" as Viktor Petrov, the President of Russia, and has a recurring role as Stregobor on Netflix's "The Witcher."
Mikkelsen is also a staple of European cinema, with the critically acclaimed actor appearing in numerous Danish and European-based productions, including the film "Headhunter." Despite having a rich background in film and starring in some of the most popular shows of the last decade, Mikkelsen has yet to appear in any live-action theatrical release in the U.S. However, assuming he makes it out of "Ahsoka" alive, a potential return as Thrawn in Dave Filoni's upcoming "Star Wars" movie could change that.
Mikkelsen is excited to bring Thrawn to live-action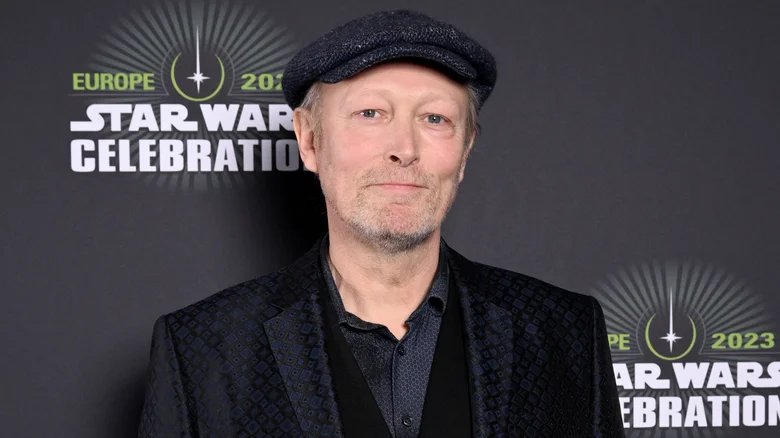 Jeff Spicer/Getty Images
Grand Admiral Thrawn has long since used his intellect to terrorize the "Star Wars" universe, but it wasn't until "Star Wars Rebels" that Lucasfilm brought him into the new "Star Wars" canon. With "Ahsoka" gearing up for his introduction, not only is Thrawn finally making his live-action debut, but he's doing so with the man behind his "Rebels" voice, Lars Mikkelsen.
"When David [Filoni] finally asked me if I wanted to do it, there were no doubts," Mikkelsen told Entertainment Weekly about returning to Thrawn in "Ahsoka" after voicing the character in "Rebels." "But, [as far as] the transition between 'Rebels' and the actual live-action character? I hope it works!" Although he isn't sure how people will react to Thrawn in "Ahsoka," Mikkelsen reassured fans that he and Filoni understood the importance of getting Thrawn right for his live-action debut.
Thankfully, Mikkelsen got a small preview of how fans will likely respond to the new Thrawn when Lucasfilm announced his return at "Star Wars" Celebration 2023. The reveal and having Mikkelsen walk out on stage at the "Ahsoka" panel drew thunderous applause from the audience, making it difficult for the actor to keep his composure. "It was a very emotional moment that I didn't expect to have," he said in the same interview, stating how much it meant to him to get that kind of reception from "Star Wars" fans. "I had a hard time actually keeping my tears back. I was really tearing up. I didn't expect that."
News Related
OTHER NEWS