While similar, these popular frozen treats have a different taste and texture.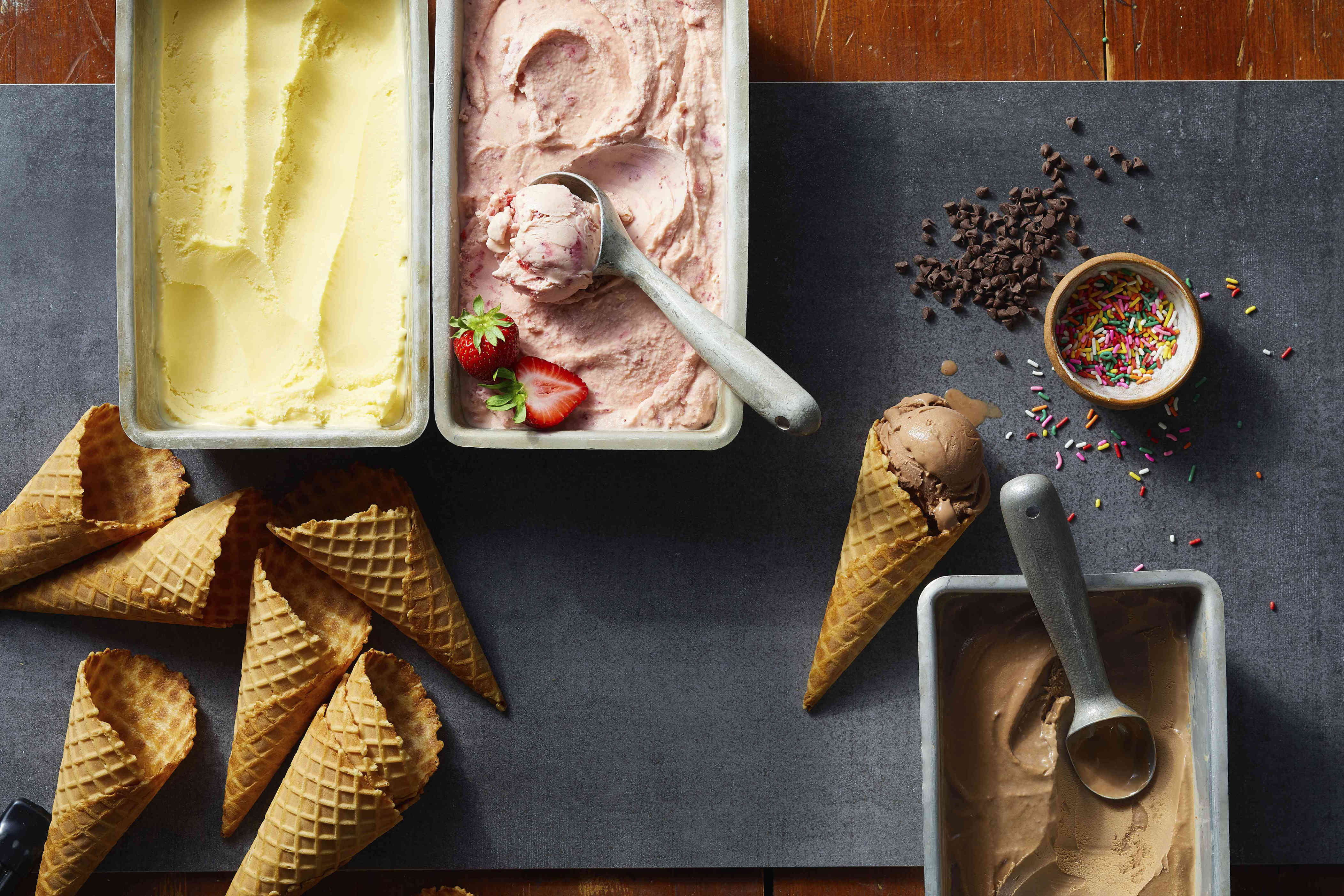 Brie Passano
Whether piled on top of a waffle cone or packed into a pint, ice cream and gelato don't seem all that different. But while the two frozen treats do share many similarities—the word gelato even translates to "ice cream" in Italian—they are in, fact, distinctly different products. And if you're wondering what sets them apart, you're not alone.
"We get this question constantly—more than you could even imagine," says Bryce Licht, co-founder and CEO of Gelato Boy, a Denver-based gelato company that sells its pints nationwide. "On one level, the differences are kind of basic, but they do end up creating totally different products. What we generally tell people is that the process to make ice cream and gelato is very similar—often it can be run on the same equipment—but the recipe is very different."
What Is Gelato?
Gelato is Italian for ice cream and made with a custard base that traditionally includes more milk and fewer eggs than ice cream. Some recipes include no eggs at all. The resulting dessert is creamier, denser, and richer than traditional American ice cream.
What Is Ice Cream?
Ice cream is made with milk, cream, sugar, and eggs. Often, the ingredients are cooked first and then churned to create a creamy, fluffy dessert. Churning incorporates air into the dessert which helps lighten the texture.
How Are Ice Cream and Gelato Different?
Read on for our breakdown of the differences between gelato and ice cream, including how they differ when it comes to ingredients, taste, texture and temperature.
Ingredients
Gelato and ice cream start with a similar custard base—they're both made with milk, cream and sugar—but they're made with different proportions of those ingredients. Ice cream is made with a higher amount of cream, while gelato is made with more milk. "The typical ice cream recipe is mostly cream with a little bit of milk, and gelato is actually doing the exact opposite ratio," Licht says. "We're going to use mostly milk and then a little bit of cream."
Because it uses a higher amount of cream, ice cream has a higher butterfat content than gelato. Ice cream typically contains around 15 to 20% butterfat (and must contain at least 10 percent fat) while traditional gelato contains about 5 to 8% butterfat. And while ice cream—particularly frozen custard—sometimes contains egg yolks, as a general rule of thumb, gelato does not. "In gelato, we're really only going to use eggs if we want to taste the egg," Licht says. "Sometimes you'll see a gelato shop that has egg yolk in vanilla because they're complementary flavors, or often it'll be in flavors that have nuts in them—a pistachio or a hazelnut might add egg yolks because the extra fat in the nuts sometimes needs that extra emulsification that eggs can give."
Taste
Gelato is churned at a much slower speed than ice cream, and as a result has less air whipped into it. Gelato usually contains about 15 to 30% overrun (the percentage of air incorporated into the product during the freezing process), which makes it denser than ice cream. Many argue that this makes the flavor more intense.
"Because it has a lower butterfat content and incorporates less air, the product ends up being denser, which also means it's just more flavorful," Licht says of gelato. "One of the selling points of gelato is that the flavors are more pure and more intense because without all that butterfat, your mouth doesn't get coated with milk fat, which doesn't have a ton of flavor. Coffee is gonna taste more like coffee and pistachio will taste more like pistachio, both because there's less fat to kind of cover up the flavor and because you're actually getting more product in every bite since it's denser."
Ice cream, meanwhile, incorporates more air than gelato, though the amount can vary widely. Some commercial ice cream brands can contain up to 100% overrun (meaning the product is 50% air), but Jeni's Splendid Ice Creams founder Jeni Britton says most premium ice cream brands have much lower amounts of air, closer to the level of a gelato.
"You can't have no air—if you just froze cream and sugar, you would have a brick," she says. "You have to have that churning process, and the air actually makes it creamier."
Texture
Because it contains higher levels of cream and air, ice cream is creamier and fluffier than gelato. On the flip side, gelato is known for its smooth, silky texture.
"What's interesting is a lot of people assume that gelato has more fat or more cream than ice cream because its perceived creaminess is a little higher," Licht says. "Because it's so dense, it doesn't have a lot of air pockets, which also eliminates a lot of the potential for ice crystals to grow. It's kind of a silkier, more velvety texture, which can be perceived as being creamier even though there's less cream."
Temperature
Gelato also has such a silky texture because it's served at a warmer temperature than ice cream—usually between 5°F to 10°F, while ice cream is served at around 0°F or lower. Because gelato is served at a warmer temperature, it's softer, which is why it's often served with a paddle instead of scooped. And since they're served—and stored—at different temperatures, gelato and ice cream are also generally kept in different types of freezers.
"Gelato is served in a forced-air freezer, which has circulating air, whereas American ice cream is served in a gravity freezer," Britton says. "American ice cream is served hard, and what happens when you harden an ice cream is that the ingredients—like a cinnamon—kind of bloom in the butterfat."
Our Favorite Recipes for Ice Cream and Gelato
Ready to try your hand at making ice cream or gelato? Start with our Classic Vanilla Ice Cream or this easy base recipe for no-churn ice cream, or try this decadent Bananas Foster Gelato if you're opting for gelato. Don't feel like making your own? Use a quart of your favorite store-bought pistachio gelato to make these decadent Pistachio Gelato Brownie Bars.
Just remember that while ice cream and gelato do have their differences, they also have one major thing in common.
"They're both delicious," Britton says. "Both of them bring communities together—standing in line, whether at the ice cream shop or the gelato shop, is part of the fun of the whole experience."
Read the original article on Better Homes & Gardens.
News Related
OTHER NEWS