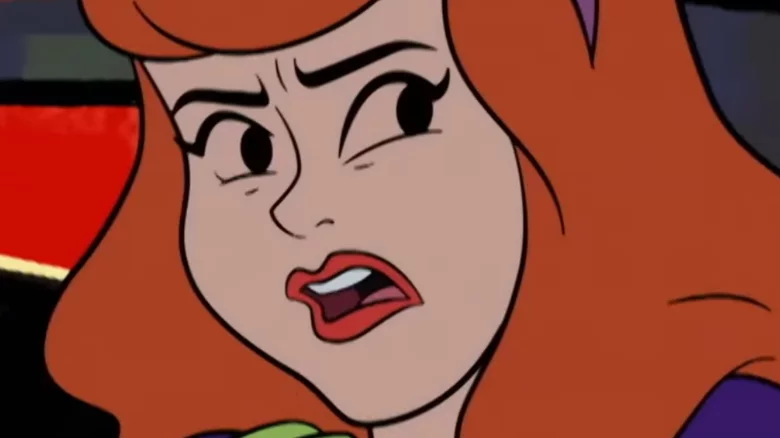 Warner Bros.
One theme that the original "Scooby-Doo" is known for is that monsters are rarely what they seem, and more often than not, a person is the real monster. However, the franchise slowly moved the gang of Shaggy, Scooby, Velma, Daphne, and Fred toward the more fanciful, and there are several installments where the group actually interacts with ghouls and supernatural creatures of the night. Still, even in these examples, the villains usually end up being regular people who do not understand the supposed monsters. Go figure.
The most recent addition to the "Scooby-Doo" catalog is "Trick or Treat Scooby-Doo!," which boasts an impressive array of voice acting talent like Frank Welker, Grey Griffin, Matthew Lillard, and Kate Micucci. Griffin, who has voiced Daphne in several "Scooby-Doo" movies and shows, has an exceptionally long and varied career in animation and video games — IMDb notes that she has over 600 acting credits and occasionally goes by the stage name of Grey DeLisle. So what are some of her major projects?
She bosses around the Grim Reaper in The Grim Adventures of Billy & Mandy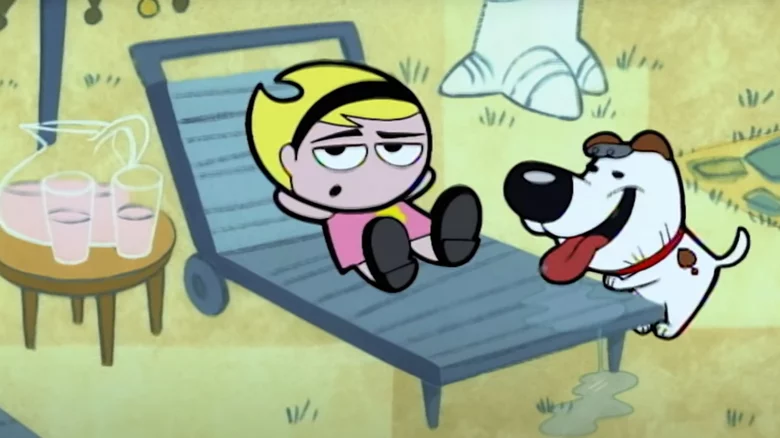 Warner Bros.
Grey Griffin's first big project was in "The Grim Adventures of Billy & Mandy," in which she plays the character of Mandy between 2001 and 2007. Joined by her brother Billy (Richard Steven Horvitz), "Grim Adventures" is about how the two siblings are able to trick Grim (Greg Eagles) into being their servant. Grim is a manifestation of death, and he looks just like a stylized depiction of the Grim Reaper. While Billy is a ball of energy, Mandy is a bit more pragmatic and calculating, and the two definitely have somewhat of a tenuous relationship with Grim — they abuse his supernatural powers and use him to go on all sorts of extra-planar adventures.
Speaking with Pop Dose in 2010, Griffin was asked about her role on "Grim Adventures," and she said she enjoyed the experience — but it was tricky for her to get Mandy's voice just right. She added, "Kris Zimmerman ended up directing the series, but Collette did the pilot, so they both had a hand in getting the voice right. It was really hard! It was the hardest voice I've ever had to do, because I'm such an animated person. When they said, 'Too cartoony, make it more real,' I'm, like, 'But I talk like this! This is me being real!' I love Adam, the guy that created the series. Well, he goes by Maxwell Atoms, but his real name is Adam, and he's a really great guy."
She is a best friend and romantic interest in Danny Phantom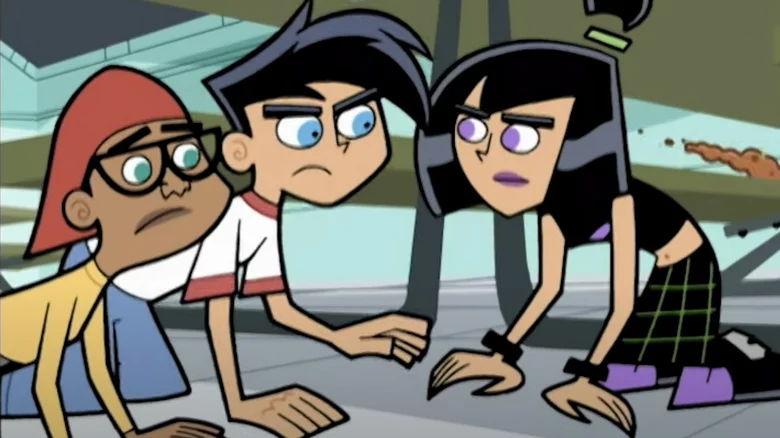 MTV Networks
As mentioned earlier, Grey Griffin has lent her talents to many different entertainment endeavors, and her next major reoccurring role is on "Danny Phantom," which ran from 2003 to 2007. This television show follows a young teenager named Danny Fenton (David Kaufman) who gains ghost-related powers when a lab experiment goes terribly wrong. Griffin plays the role of Samantha Manson, Danny's best friend and future romantic interest. Samantha definitely has a rather distinct look and personality, and she is both a hardcore goth and vegetarian. Not only that, but Samantha is also enthusiastic about activism, and she does what she feels in her heart is right and morally sound. According to IMDb, Griffin appears in 43 episodes of "Danny Phantom."
In a 2019 interview with BSCkids, Griffin was asked about what some of her favorite roles have been, and she replied, "I loved playing Vicky on 'The Fairly Odd Parents' and Sam on 'Danny Phantom.' I also have been the voice of Daphne on 'Scooby-Doo' for over 20 years. And I'm the new Redhead on the Pirates of the Caribbean ride at Disneyland! Lots of redheads! Ha!"
Griffin flexes a villainous persona in Avatar: The Last Airbender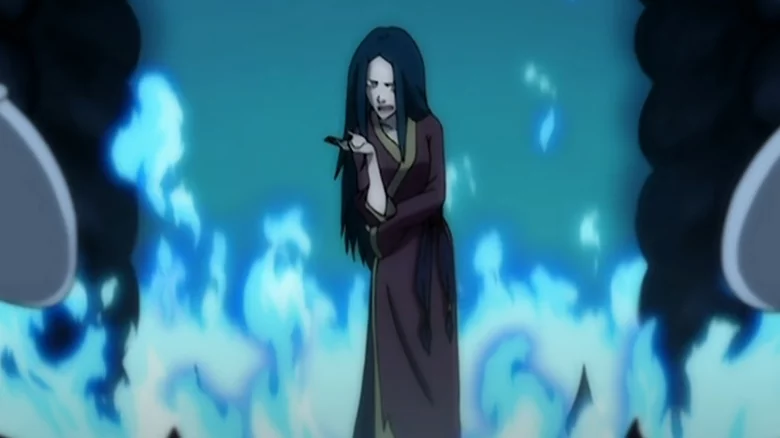 MTV Networks
Besides messing with a personification of death and being best friends with a ghost-imbued boy, Grey Griffin is also famous for her role in the animated "Avatar: The Last Airbender." Playing Azula, the crown princess of the Fire Nation, the character is known for being exceptionally manipulating and ruthless, as well as for her amazing prowess at fire bending. This makes her an imposing figure in the television series, and she is tasked with hunting down her exiled brother Zuko (Dante Basco), as well as the apprehension of Aang (Zach Tyler Eisen). As reported by IMDb, Griffin appears in 23 episodes and also voices other background characters from 2005 to 2008.
During a Reddit Ask Me Anything session, Griffin was asked if she uses any of her characters' voices in real life, and she replied, "Sometimes I go out in life — there's a guy who works at my Coffee Bean, and he's a big 'Avatar' fan, and I'll order my drink in my Azula voice! Sometimes if I hear people talking about the show — I was in a line at Best Buy, and I heard people talking about 'AVATAR,' and I spoke in the voice then too! Sometimes it's fun to freak people out, now and then."
She has played several iterations of Wonder Woman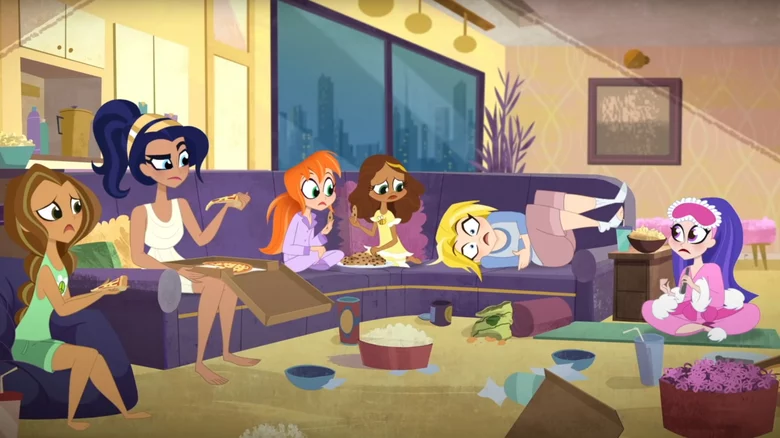 Cartoon Network
Of course, when one needs to take a break from acting as a cold hearted fire bender or a girl who has enthralled the Grim Reaper, lending one's talents to the voice of Wonder Woman, Wonder Girl, and other DC Comics characters has got to be a palate cleanser. She appeared as Wonder Girl in 2012's "Super Best Friends Forever" and as Wonder Woman in the 2014 video game "JLA Adventures: Trapped in Time," 2014's "Lego DC Comics: Batman Be-Leaguered," 2015's "Lego DC Super Heroes: Justice League — Attack of the Legion of Doom!," 2016's "DC Super Hero Girls: Super Hero High," and many other video games and shows. In other words, Griffin definitely knows a thing or two about Themyscira and golden lassos.
In an interview with The Beat, Griffin was asked about 2022's "Teen Titans Go! & DC Super Hero Girls: Mayhem in the Multiverse" and if she enjoyed playing a humorous version of Wonder Woman. She responded, "I've also been able to play the 'earnest Wonder Woman' in all the other properties for several years. When this one came up it was such a departure and so much more fun. Even though I do get to play the 'earnest Wonder Woman' in this one as well at the very end. It was fun to play both Wonder Women in one film. I do love the comedy and I love the awkwardness of Wonder Woman."
She plays multiple characters in Invincible
Amazon Studios
Besides her recent voice acting work in "Trick or Treat Scooby-Doo!," Grey Griffin is probably recognized for her role as both Monster Girl and Shrinking Rae in Amazon's popular "Invincible" television series.
Based on the comic of the same name from Robert Kirkman, "Invincible" is about Mark Grayson (Steven Yeun), the son of a Superman-like figure known as Omni-Man (J.K. Simmons). However, it turns out that Omni-Man isn't the savior that everybody assumes he is — he is actually a conqueror, not a protector. As such, Mark is recruits into a team of superheroes consisting of Robot (Zachary Quinto), Rex Splode (Jason Mantzoukas), Dupli-Kate (Malese Jow), Black Samson (Khary Payton), Shrinking Rae, and Monster Girl. Shrinking Rae is an Ant-Man-like character that can shrink and grow, while Monster Girl is a cursed woman who can transform into a demonic persona, but each time she does so, her human form gets younger.