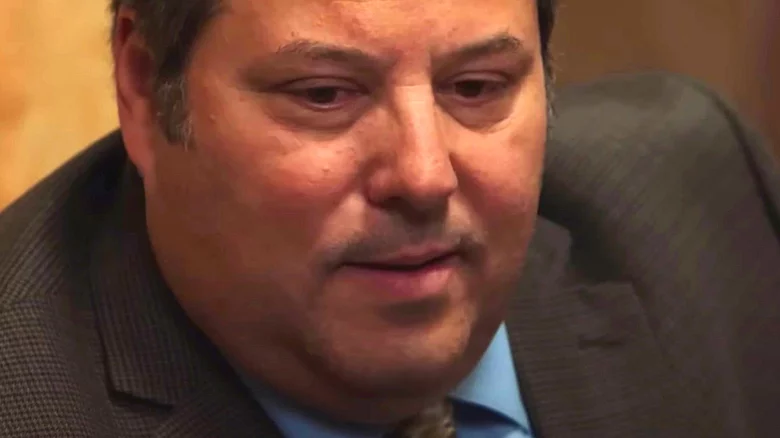 NBC/YouTube
The "Law & Order: SVU" train keeps on chugging, and the champion of the marginalized, Olivia Benson (Mariska Hargitay), has no time for victim disrespect. The tenacious captain is old hat at defending those who cannot protect themselves, and well into Season 24, she is still putting her skills to use. In Episode 8 of the season, Olivia investigates the murder of Detective Mark McDaniels' child. But as this is "SVU," there are morals everywhere. This episode revolves around the topical conversation about misgendering when McDaniels must confront his inability to accept his child.
The victim's preferred name was Aida (Dani Foster), but this was not something that her father could accept. After McDaniels finds her body, he rids the crime scene of any evidence that she identified as female to avoid shame. Though ultimately a good person, Mark admits that he failed to support her, even in death. This conflict drives the story forward and is in good hands with the actor who portrays Mark. Not just any guest star, Mark McDaniels can be seen in many projects from the past two decades.
Weiss was part of Sydney's spy family in Alias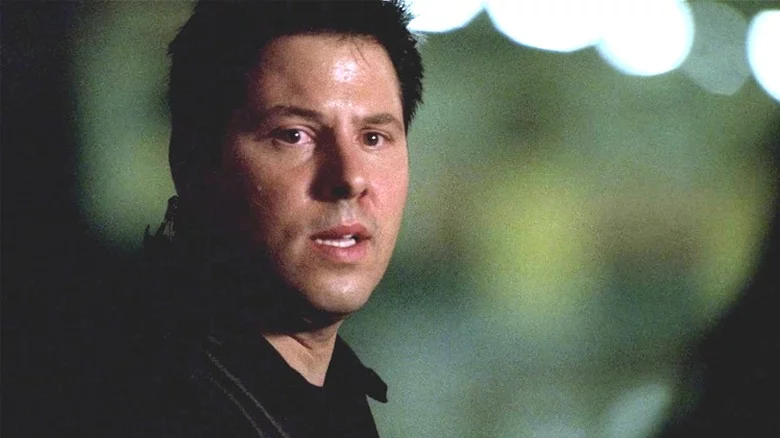 ABC
Watch any J.J. Abrams production, and there's a good chance you'll focus on Greg Grunberg. The actor has been a featured favorite in many of the producer's shows, and we can't forget the charming fever dream that skyrocketed Jennifer Garner to fame. ABC's spy drama "Alias" aired in 2001 and came on the coattails of girl power adjacent shows such as "Buffy the Vampire Slayer." With extravagant wigs and a subplot about an ancient inventor who could see the future, "Alias" made its mark in pop culture. Garner stars as Sydney Bristow, a loyal government agent, until one day, she finds that her fiancé has been killed. That is how she learns that she does not work for the CIA but for a shadow terrorist organization known as SD-6.
Sydney's search for the truth leads her to the real CIA and love in the arms of her handler, Michael Vaughn (Michael Vartan). This relationship is an HR nightmare, a fact that Vaughn's best friend, Eric Weiss (Grunberg), is more than happy to point out. He starts as a sounding board for Vaughn but later joins the mania of the Rambaldi artifact search. Weiss even falls for Sydney's half-sister Nadia (Mía Maestro), forming a romantic quartet. Through thick and thin, Weiss is an integral part of the team, always a dependable asset whenever Sydney and Vaughn need him.
The pilot was sacrificed so Jack could live in Lost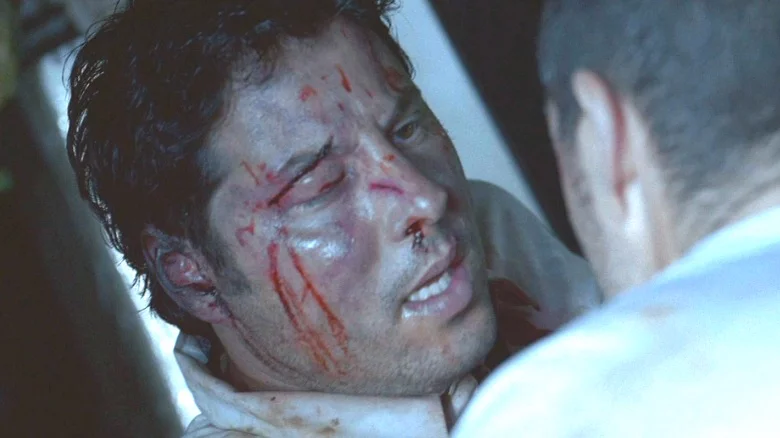 ABC
Where would the characters of "Lost" be without their fearless leader, Jack Shephard (Matthew Fox)? After the crash of Oceanic Flight 815, the stubborn spinal surgeon accepts massive responsibility as he tries to get his fellow survivors off a deserted island. Reluctant at first, Jack grows into his role as leader and, at the ending of "Lost," finally understands that he has a destiny of mythic proportions. But that wasn't always in store for him. In an interview with ABC, executive producer Damon Lindelof revealed it had always been the plan to kill off Jack. But after pushback from executives, the creatives realized they would have to kill a different character instead. Enter producer J.J. Abrams' childhood friend, Greg Grunberg.
"I showed [Grunberg] the script, and he read it, and he called back, and he said that he loved the script except he was furious at us that we killed [Jack]. So I ended up casting Greg as the pilot who gets killed. I killed Greg instead," Abrams confessed. At the end of the pilot, Jack, Kate (Evangeline Lilly), and Charlie (Dominic Monaghan) make it to the cockpit, where the pilot (Grunberg) is hanging on to life. Just as they get their hands on the satellite phone, the pilot is ripped from the cockpit and dies instantly. The pilot was the first major death of the series, foreshadowing that this was no ordinary island. And a phenomenon was born.
Matt Parkman is reborn in Heroes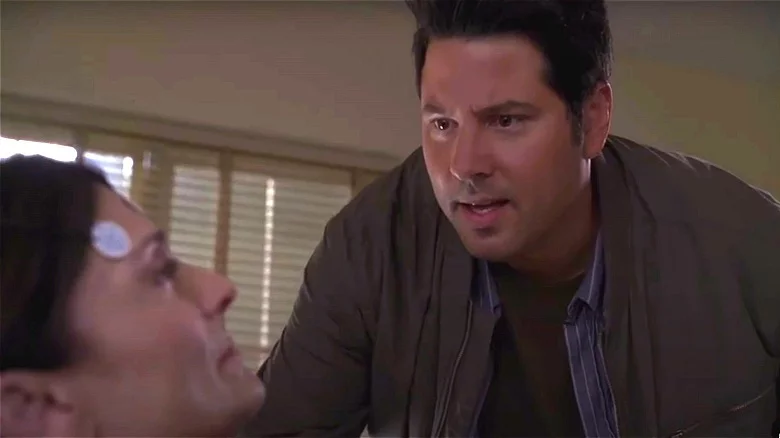 NBC/YouTube
Greg Grunberg's character may have died in the pilot of "Lost," but it wouldn't be long before he would star in a television phenomenon in his own right. From the creative mind of Tim Kring, "Heroes" became notable for its multiple perspectives and awe-inspiring aesthetic. The late comic artist Tim Sale was behind the series' art, creating an immersive visual (via Variety). In addition to the significant cheerleader Claire (Hayden Panettiere), positive hero Hiro (Masi Oka), and empathetic Peter (Milo Ventimiglia), Grunberg rounded out the cast as Matt Parkman. A beat cop looking to become a detective, Matt is pulled into the mystery of serial killing Sylar (Zachary Quinto) after learning he is telepathic. Beloved for its first season, fans gave up on "Heroes" due to a quality decline in light of the 2008 WGA strike. Even so, Matt was a dream come true for Grunberg to play.
"I still to this day maintain that Season 1 of 'Heroes' is one of the best seasons of television," Grunberg told TV Insider. "The discovery that went into that first season, both for the audience discovering the characters, for the characters discovering their powers, for the writers discovering the actors and how everything was going to work together and mesh, it just was so well crafted." Grunberg even got a second chance to play Matt in the revival "Heroes: Reborn," but it had even a shorter run than the original.
Gene's relationship was doomed in Masters of Sex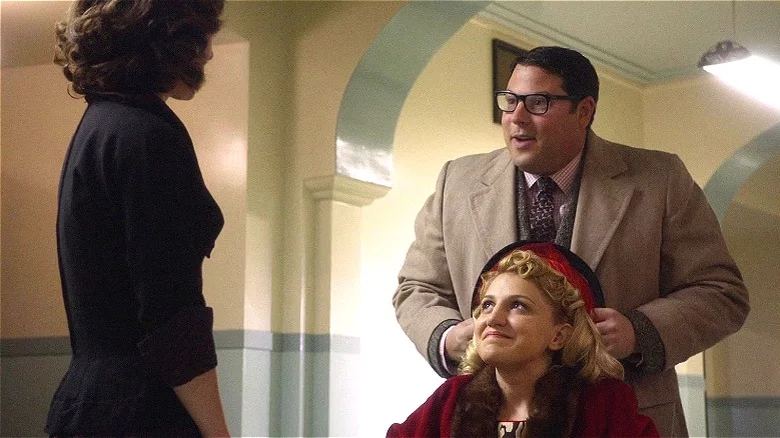 Showtime
Intimate investigations into sex and relationships will not always be comfortable, especially ahead of the sexual revolution of the '60s. At a time when women were sexually repressed and subjected to gender roles, Bill Masters (Michael Sheen) and Virginia Johnson (Lizzy Caplan) were controversial pioneers. For four seasons, Showtime's series "Masters of Sex" portrays their findings, if in a somewhat fictionalized light (via Los Angeles Times). As the two research the science behind sex, Bill and Virginia also engage in a sexual relationship — purely for scientific reasons, of course. But this further demonstrates how complex relationships are. Outside of their messy affair, many of their coworkers have trials of their own.
Office manager Betty's (Annaleigh Ashford) relationship with her husband Gene (Greg Grunberg) is another facet of the lies we tell ourselves and our spouses. Greg ultimately feels betrayed by Betty because she lies about her infertility. This forms a definitive fissure in the marriage, and it never recovers. Though Gene is a well-to-do man of the time, Betty's heart lies elsewhere. She returns to her ex Helen (Sarah Silverman), and they hope to have a child together. Whether in the '60s or the present day, love and sex is never an easy equation.
Snap Wexley died tragically in The Rise of Skywalker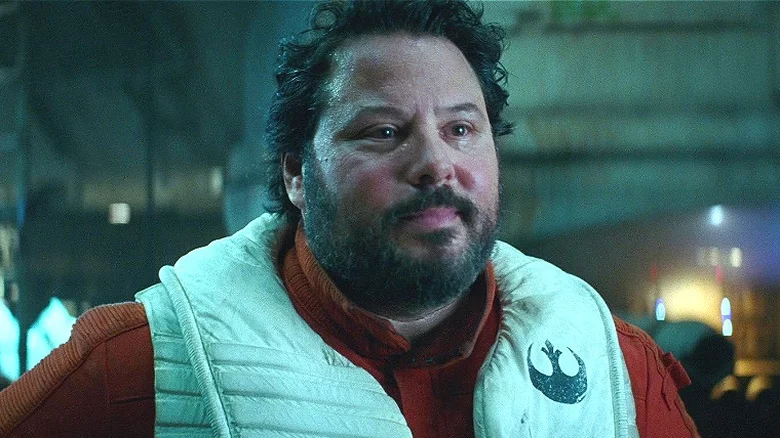 Walt Disney/Lucasfilms
Though it may be difficult for any Star Wars franchise to be more divisive than the prequels, J.J. Abrams gave it a solid try. The third trilogy in the Star Wars saga films features a tale as old as time as young Rey (Daisy Ridley) embarks on a journey to master her powers. In the meantime, Leia Organa (Carrie Fisher) and Han Solo's (Harrison Ford) son Kylo Ren (Adam Driver) wreaks havoc, making it clear that Star Wars fans are in for yet another redemption arc whether they want it or not. Abrams directed two out of the three in the trilogy — "The Force Awakens" and "The Rise of Skywalker." The final film in the franchise received critical backlash from outlets such as The Atlantic, mainly due to inconsistent storytelling.
But despite all the wild plot twists involving Emperor Palpatine (Ian McDiarmid), Abrams still employs emotional resonance wherever he goes. "The Rise of Skywalker" marks the return of Greg Grunberg's Snap Wexley. First appearing in "The Force Awakens," Snap is the son of a talented pilot and takes on the mantle himself during the conflict with The First Order. But despite his lineage, he does not survive the events of the final film. Snap dies in the battle of Exegol, attempting to fight back the Emperor's massive deployment. There can be no battles without sacrifice, and Snap's death highlights the importance of the rebellion.
Boucher has a miserable time in Castle Rock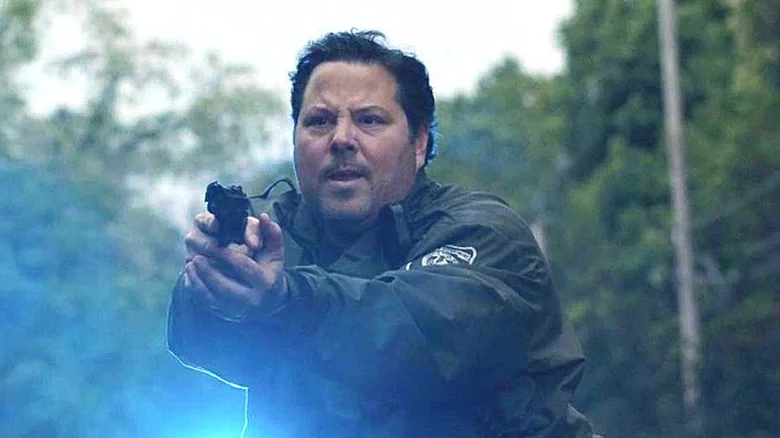 Hulu
If there was any hope for the townspeople at the end of "Castle Rock" Season 1, it was utterly dashed when the Hulu series returned for its following iteration. This is the land of Stephen King, and the characters of Castle Rock do not historically have a good time. Season 2 further expands on King's lore with the origin of Annie Wilkes (Lizzy Caplan). A pop culture touchstone made famous by Kathy Bates in "Misery," Season 2 follows Annie as she gets pulled into the spooky happenings of Castle Rock. Long before Annie imprisons writer Paul Sheldon, this incarnation of the character is far more sympathetic. She struggles against the weight of her mental illness while grappling with her past trauma. But the villains of the season are not helping.
This time, Castle Rock is plagued by the spirits of 400-year-old cultists focused on resurrecting themselves. Annie is the prime choice for the cultist's prophet Amity, but others also find a foothold in the present day. Amity's lover Pastor Augustine possesses Ace Merrill (Paul Sparks), the town psychopath. And it isn't long before the spirits find a footing in law enforcement. Officer Broucher (Greg Grunberg) is one of the unfortunate souls who never really stood a chance. Augustine kills Broucher quickly and resurrects him to get close to Annie. But his usefulness is short-lived. Broucher becomes one of the many sacrifices in the town marred by a dark history.