After winning two consecutive Fight of the Year awards, Sam Eggington is one of the few fighters you can trust when he says he'll deliver entertainment in the ring.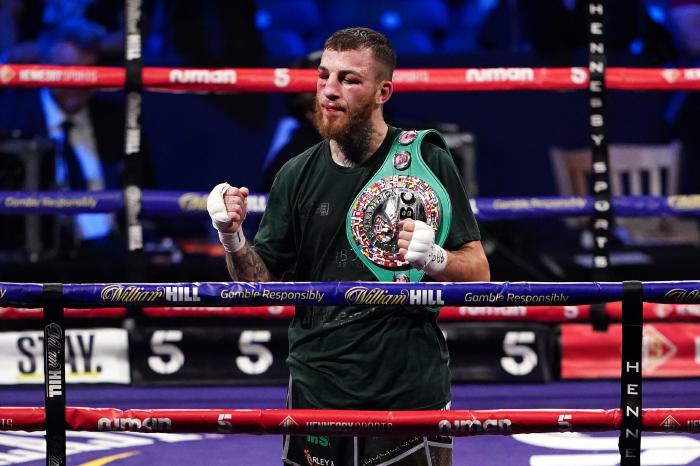 Sam Eggington returns to the ring this weekend, with the Brit facing the undefeated Przemyslaw Zysk on Saturday night.
The 28-year-old has been at the centre of some stunning displays in recent years, and now boasts a 31-7 record in boxing.
Poland's Zysk now stands in his way, and Eggington is confident of putting on another entertaining show in Coventry.
After two consecutive Fight of the Year awards, we aren't going to argue, and the Birmingham-born fighter seemed full of confidence ahead of the clash.
Fight Week! Warriors collide this weekend at @CoventrySkydome when @eggington_sam meets Przemyslaw Zysk for the @IBOBoxing World Super Welterweight title on @SkySportsBoxing.@HennessySports @boxxer pic.twitter.com/9TQLImNxej

— IBOBoxing (@IBOBoxing) June 21, 2022
"I'm always ready," Eggington said. "I know how my fights go, so we always prepare for that."
Eggington's first Fight of the Year award came in 2020 during his points win over fellow Brit Ted Cheeseman, and he followed it up by winning the prize again in 2021, this time in his gruelling bout with Bilel Jkitou.
"I know that my fights are going to end up in a slug-fest, a gruelling night's work.
"So I prepare for that. If I get in there and I throw a shot and it puts them out early then that's great. But if I don't I know that I've got to drag them there and keep them there until they give up," Eggington added.
"When I'm in the ring, it kills me as well. I don't know if I've got another four rounds, three rounds but I'll always make it. I genuinely put that down to hard work."
𝙄𝙏'𝙎 𝙁𝙄𝙂𝙃𝙏 𝙒𝙀𝙀𝙆!
🥊 Adam Azim fighting for a World Youth Title
🥊 Karriss Artingstall's pro debut
🥊 Cori Gibbs vs Carlos Perez
🥊 Dylan Cheema returns
🥊 Sam Eggington in a IBO World title fight
🤜 June 25 | Coventry Skydome | @Boxxer pic.twitter.com/zKfTR8yD6A

— Sky Sports Boxing (@SkySportsBoxing) June 20, 2022
The man tasked with constructing Eggington's game plan is trainer Jon Pegg, who praised his fighter's grit and determination.
"Deep down people want to outbox people, people want to have a fight where they don't get hit if they can help it. He genuinely enjoys it," said Pegg.
"Even people who beat him, he drags them into the kind of fight they never want to be in again [but] Sam looks for that. That's the difference and that's why he keeps doing them."
Eggington is in action on Saturday evening, with Karriss Artingstall and Adam Azim also fighting on the same card in Coventry.